The Role of N-acetylcysteine Amide in Defending Primary Human Retinal Pigment Epithelial Cells against Tert-butyl hydroperoxide- induced Oxidative Stress
Keywords:
N-acetylcysteine amide, Thiol antioxidant, Oxidative free radical damage, Retinal pigment epithelium
Abstract
Background: Age-related macular degeneration (AMD) is a leading cause of blindness in the United States among adults age 60 and older. While oxidative stress is implicated in the pathogenesis of AMD, dietary antioxidants have been shown to delay AMD progression in clinical studies. We hypothesized that N-acetylcysteine amide (NACA), a thiol antioxidant, would protect retinal pigment epithelium and impede progression of retinal degeneration. Methods: tert-Butyl hydroperoxide (TBHP) was used to induce oxidative stress in cell cultures. The goal was to evaluate the efficacy of NACA in an in vitro model of AMD in primary human retinal pigment epithelial cells (HRPEpiC). Results: Our data indicates that TBHP generated reactive oxygen species (ROS), which reduced cell viability, depleted glutathione (GSH) levels, and compromised glutathione reductase (GR) activity. Pretreatment with NACA significantly reduced ROS generation, restored GSH levels and GR activity, and recovered transepithelial electrical resistance. Pretreatment with NACA did not decrease the number of dying cells as determined by flow cytometry analysis. However, survival was significantly improved when cells were co-exposed to NACA and TBHP after a shortened pretreatment period. Conclusion: Our data suggest that pretreatment with NACA reduces sublethal but not lethal effects of TBHP in HRPEpiC. NACA significantly improves cell survival when administered prior to and during oxidative damage similar to that observed in the development of dry AMD. These results indicate that continuation of a thiol antioxidant regimen for treatment of AMD is beneficial throughout the course of the disease, and NACA is a potent antioxidant that should be further evaluated for this purpose.
Downloads
Download data is not yet available.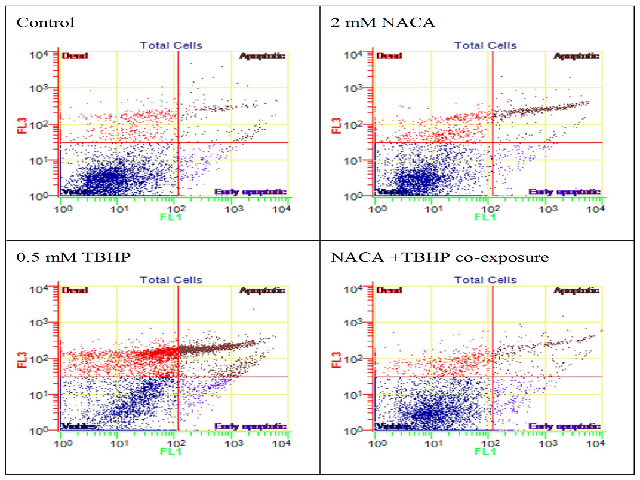 Downloads
CITATION
DOI: 10.5530/fra.2017.2.26
How to Cite
Wang, H.-J. ., Huang, Y.-W. ., Tobwala, S. ., Pfaff, A., Aronstam, R., & Ercal, N. (2017). The Role of N-acetylcysteine Amide in Defending Primary Human Retinal Pigment Epithelial Cells against Tert-butyl hydroperoxide- induced Oxidative Stress. Free Radicals and Antioxidants, 7(2), 172–177. https://doi.org/10.5530/fra.2017.2.26