In vitro Anti-oxidant Activity in Methanolic Extracts of five Pogostemon Species
Keywords:
Antioxidant activity, Pogostemon, Metanolic extracts, Antioxidants, Therapeutic agent
Abstract
Objectives: The Oxidation damages are induced by highly reactive oxygen species in human body. Antioxidants terminate the inactive of these radicals and reduce the risk. In this study, we compared the antioxidant properties of five Pogostemon species. Methods: The in vitro antioxidant activity was evaluated by DPPH, ABTS, reducing power assay, ferrous ion chelating activity, Hydroxyl radical scavenging activity (HRSA) and ferric reducing antioxidant power (FARP) assay. The antioxidants compound like total phenols and total flavonoid were also evaluated in these plants. Results: The presence of high amount of phenols and flavonoid in these plants, the metanolic extract's antioxidant can strongly scavenge DPPH and ABTS radical with significant IC50 value range. Other modals of experimented where have potential antioxidant activity. Conclusions: These Pogostemon species had significant antioxidant agent, it could be an excellent source of antioxidants with great explore as therapeutic agent.
Downloads
Download data is not yet available.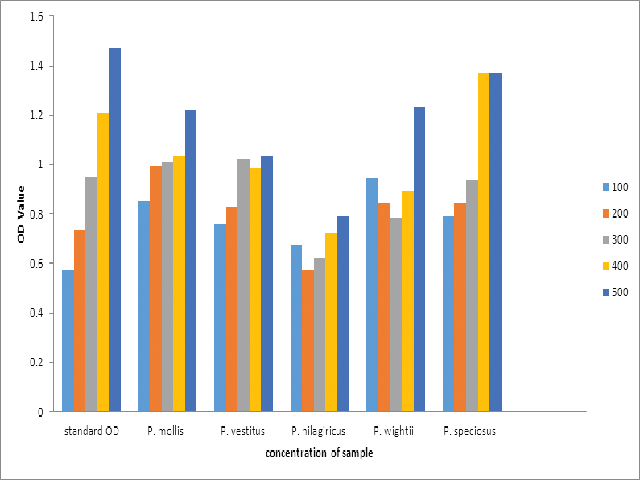 Downloads
CITATION
DOI: 10.5530/fra.2017.2.29
How to Cite
Kaliyappan, M. ., Nallasamy, N. ., & Kathirivan Thirumuruthy, S. P. (2017). In vitro Anti-oxidant Activity in Methanolic Extracts of five Pogostemon Species. Free Radicals and Antioxidants, 7(2), 190–194. https://doi.org/10.5530/fra.2017.2.29