Antimicrobial and Antioxidant Activities of Polyphenols against Streptococcus mutans
Keywords:
ABTS method, DMPD method, MIC
Abstract
Natural polyphenols, gallic acid, tannic acid, quercetin and salicylic acid, were investigated for their antimicrobial and antioxidant activities against Streptococcus mutans. Ascorbic acid, well known for its antimicrobial and antioxidant activities, was used as a criterion for the polyphenols. The antimicrobial effect was assessed using the plate dilution assay and the minimum inhibitory concentration (MIC) of each polyphenol was then determined from the antimicrobial activity results. Salicylic acid was the weakest antimicrobial with the highest MIC (3.8 mg/mL), and tannic acid was the strongest antimicrobial with the lowest MIC of 0.4 mg/mL. Antioxidant capacities were evaluated using the DMPD and ABTS decolorizing assays. These polyphenols show high antimicrobial activity and inoxidizability. Antioxidant activity for quercetin according to the DMPD method was inconclusive because it had color interference with the DMPD radicals. Although some conflicting results were observed between the DMPD and ABTS methods, the polyphenols with high antioxidant capacities still showed high antimicrobial activities, which suggest that the antioxidant capacity attributes to the antimicrobial effects.
Downloads
Download data is not yet available.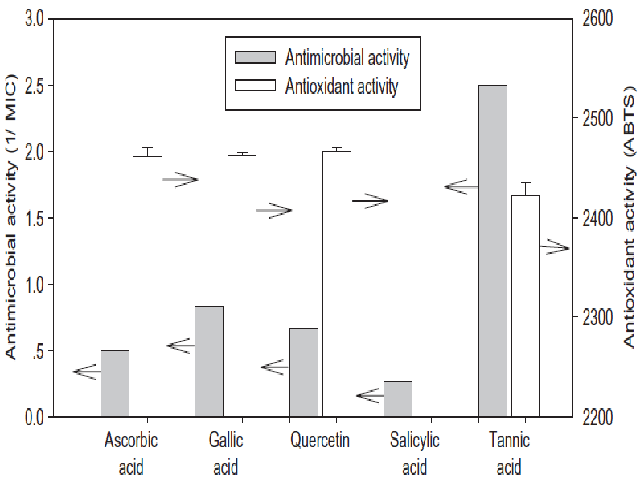 Downloads
How to Cite
Sendamangalam, V. ., Kyun Choi, O. ., Seo, Y., & Kim, D.-S. . (2020). Antimicrobial and Antioxidant Activities of Polyphenols against Streptococcus mutans. Free Radicals and Antioxidants, 1(3), 48–55. https://doi.org/10.5530/ax.2011.3.7