Endogenous antioxidant defenses in malaria comorbidly occurring with typhoid
Keywords:
Antioxidant defense, Malaria, Typhoid, Typhoid Malaria, Sex difference
Abstract
Introduction: Malaria and typhoid are two diseases of public health importance that are associated with fever in the tropics. Objective: To assess antioxidant responses during malaria, typhoid and typhoid + malaria infections, the activities of glutathione transferase (GST), catalase (CAT) and the concentrations of glutathione (GST). Materials and Methods: Spectrophometric techniques were used to assay for the biomarkers of oxidative stress in plasma and erythrocytes of patients in Abeokuta, Nigeria (n = 115). Result: The presence of either or both parasitic infections resulted in significant alterations in the antioxidant response of the subjects (p < 0.05). Depletion of erythrocyte GSH, increase in plasma GSH and increased expression of CAT in both plasma and erythrocyte, characterized the antioxidant response of the subjects. While the highest erythrocyte CAT activity was observed in typhoid-infected males, the highest plasma CAT activity was observed in females infected with typhoid (p < 0.05). GST activity in malaria infection was not significantly different from control (p > 0.05), whereas the activity of the enzyme reduced in typhoid infection and increased when typhoid and malaria infections were present (p < 0.05). Conclusion: Our findings indicate that sex differences might play a significant role in the antioxidant response of subjects in typhoid infection.
Downloads
Download data is not yet available.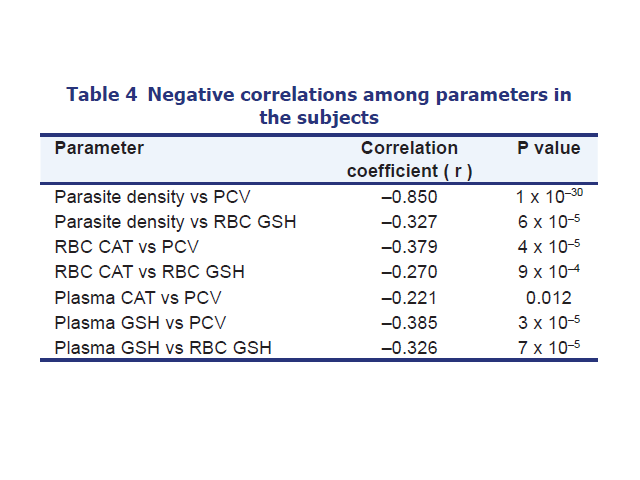 Downloads
How to Cite
O. Ademuyiwa, D. A. Ojo, R. N. Ugbaja, & S. O. Rotimi. (2012). Endogenous antioxidant defenses in malaria comorbidly occurring with typhoid. Free Radicals and Antioxidants, 2(4), 6–11. https://doi.org/10.5530/ax.2012.4.2