Lipid Peroxidation and the Levels of Antioxidant Enzymes in Hypertension
Keywords:
Antioxidant, Oxidative stress, Malondialdehyde, Glutathione, Superoxide dismutase
Abstract
Background and Aim: There is substantial evidence that oxidative stress plays a major role in hypertension and subsequently the atherosclerotic process. The aim of the present study was to investigate the presence of oxidative stress in hypertension. Materials and Methods: The study included 46 hypertensive and 48 control subjects. Superoxide dismutase, glutathione, glutathione peroxidase activity and malondialdehyde level were measured in serum samples of the participants along with fasting lipid levels. Statistical Analysis Used: All data was entered into an Excel spreadsheet and analyzed using standard statistical software like Statistical Package for the Social Sciences (SPSS). Chi square test was used for categorical variables. Results: Serum malondialdehyde level was significantly raised in the study group as compared to control group (p < 0.05). Superoxide dismutase activity, whole blood glutathione levels and glutathione peroxidase activity were significantly decreased in all the subgroups of study group as compared to control group (p < 0.05). Cholesterol, low density lipoproteins and triglycerides showed significant rise, whereas high density lipoprotein was decreased as compared to normal. Conclusions: The higher malondialdehyde level and lower activity levels of other antioxidant molecules measured in this study could have resulted from increased free radical generation, which may confirm the presence of oxidative stress in hypertension. However, further elaborate clinical studies are required to evaluate the role of such antioxidant enzymes.
Downloads
Download data is not yet available.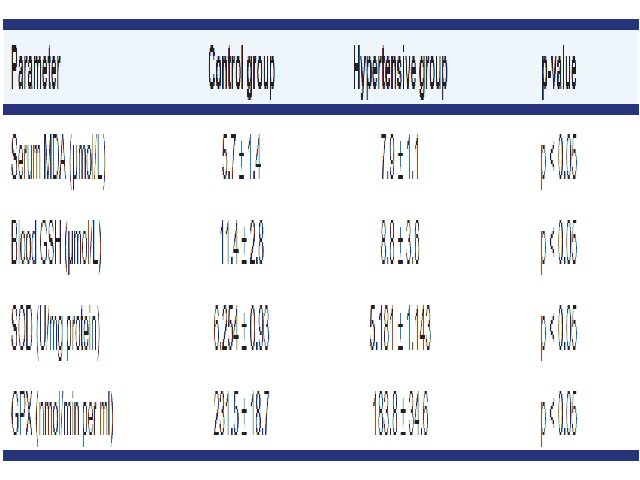 Downloads
CITATION
DOI: 10.5530/ax.2012.2.2.3
How to Cite
Amanullah, M. ., Sarwar Zaman, G., Rahman, J. ., & Sultana Rahman, S. . (2012). Lipid Peroxidation and the Levels of Antioxidant Enzymes in Hypertension. Free Radicals and Antioxidants, 2(2), 12–18. https://doi.org/10.5530/ax.2012.2.2.3