Comparative Study of Antioxidant Activities of Selected Medicinal Plants of Shujabad Area in Multan, Pakistan
Keywords:
ROS, Antioxidant, C. dichotoma, P. guajava, S. cumini, DPPH assay, H2O2 assay
Abstract
Background: In humans, especially in elderly patients, free radicals and oxidative stress are one of the main reasons behind a number of diseases/disorders, such as cardiovascular, pulmonary and neuronal in nature. Therefore, it is imperative to investigate substances/compounds that possess potent free radical scavenging activity, especially, from the indigenous flora. Methods: The present study was aimed to screen the free radical scavenging activity of ethanolic and methanolic leaf extracts of three medicinal plants: Syzygium cumini, Psidium guajava and Callicarpa dichotoma. The antioxidant activity was determined using 1,1-Diphenyl-2-picryl hydroxyl (DPPH) and Hydrogen peroxide (H2O2) scavenging assays. Various concentrations (250, 500, 750 and 1000μg/ml) of plant extract were used to carry out the assays and Ascorbic acid was used as the standard. The free radical quenching potential was expressed in inhibition percentage (%) and concentrations were expressed in μg/ml. Optical density of DPPH and H2O2 was measured using spectrophotometer at 517 and 230 nm, respectively. Results: Results from the DPPH and H2O2 assays showed that antioxidant activities were observed to be highest in P. guajava (89 and 81% respectively) followed by S. cumini (84 and 72% respectively) and C. dichotoma (83 and 70% respectively) in the ethanolic extracts. Conclusion: It is concluded that the selected plant materials used for the study have a powerful antioxidant potential and could be used in various therapeutic and medicinal applications.
Downloads
Download data is not yet available.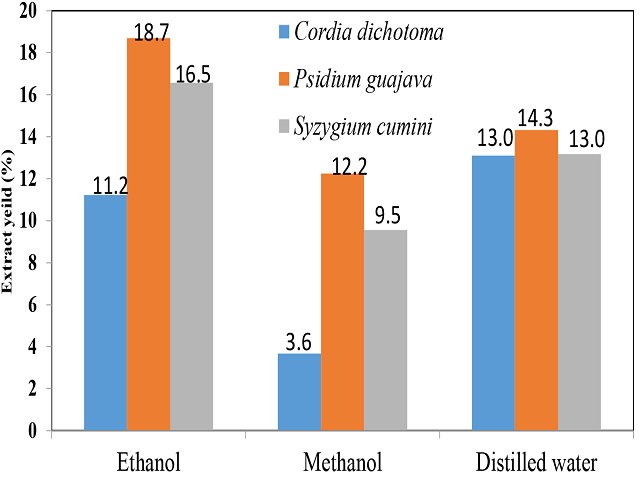 Downloads
CITATION
DOI: 10.5530/fra.2021.2.11
How to Cite
Ghaffar, S., Jabeen, S., Mehmood, T., Hayat, M. Q., & Iqbal, M. (2021). Comparative Study of Antioxidant Activities of Selected Medicinal Plants of Shujabad Area in Multan, Pakistan. Free Radicals and Antioxidants, 11(2), 46–51. https://doi.org/10.5530/fra.2021.2.11