Microscopic Evaluation and Antioxidant Activity of Glyphaea brevis (Spreng.) Monach. (Family Tiliaceae)
Keywords:
Glyphaea brevis, Microscopy, Antioxidants, DPPH.
Abstract
Background: Glyphaea brevis has been used traditionally to treat a variety of ailments, some of which are linked to oxidative stress. Despite the numerous studies on the biological activities of G. brevis, no literature was found on the microscopic study of this plant, which is essential for preparation of its monograph. As a result, the antioxidant activity of G. brevis and its qualitative microscopic characteristics were investigated in this study. Methods: The adaxial and abaxial epidermal layers of the G. brevis leaf, as well as transverse sections of the midrib and petiole, were obtained, cleared, and examined under a light microscope at X100 and X400 magnifications. The antioxidant activity of the crude methanol extract and fractions of G. brevis was evaluated via bioautographic method using 1,1-diphenyl-2-picrylhydrazyl- hydrate (DPPH) free radical scavenging activity (FRSA), total phenolic content (TPC) and the total flavonoid content (TFC). Results: Microscopic examination of the leaf revealed the presence of straight and few wavy thin-walled polygonal epidermal cells in the adaxial and abaxial layers, numerous stomata cells ranging from anisocytic, anomocytic, to paracytic in the abaxial layer, and various types of trichomes in both adaxial and abaxial layers. The FRSA and TFC were highest in the crude extract. The ethyl acetate fraction of G. brevis had highest FRSA, whereas the hexane fraction had the least. Conclusion: The microscopic study revealed characters that can be used to identify Glyphaea brevis, while the free radical scavenging activity supports its use in the treatment of many oxidative stress related diseases
Downloads
Download data is not yet available.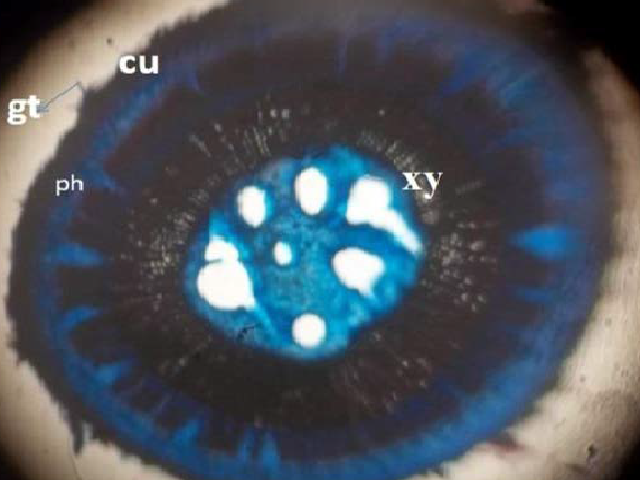 Downloads
CITATION
DOI: 10.5530/fra.2022.1.5
How to Cite
Sonibare, M. A. ., Onifade, T. R., Ogunlakin, A. D. ., Akinmurele, O. J. ., & Adebodun, S. A. . (2022). Microscopic Evaluation and Antioxidant Activity of Glyphaea brevis (Spreng.) Monach. (Family Tiliaceae). Free Radicals and Antioxidants, 12(1), 27–32. https://doi.org/10.5530/fra.2022.1.5