Antioxidant activities of leaf extracts of Euphorbia fusiformis Buch. -Ham. ex D. Don (Euphorbiaceae)
Keywords:
DPPH, O2 •-, Euphorbia fusiformis, H2O2 assays, Leaf extracts, NO
Abstract
Introduction: Free radicals such as reactive oxygen species (ROS) and reactive nitrogen species (RNS) are known to causes damage to the cellular biomolecules, resulting degenerative diseases. Antioxidants are prevent the oxidative damage caused by free radicals. Medicinal plants are having significant free radical scavenging potential due to the presence of various phyto-constituents. The present study was selected Euphorbia fusiformis Buch. -Ham. ex D. Don is a rare rhizomatous and medicinal herb belongs to Euphorbiaceae family. The purpose of current study to assess the antioxidant potential of various solvents (methanol, acetone, ethyl acetate, chloroform and hexane) leaf extracts of E. fusiformis. Methods: The antioxidant assays like, DPPH radical, super oxide radical, nitric oxide radical, hydrogen peroxide radical scavenging activity and ferrous ion chelating potential were carried out in this study. Results: The results revealed that all extracts of E. fusiformis expressed varying degree of antioxidant property on different tested methods. Remarkable antioxidant activity was observed in acetone extract on the DPPH radical scavenging activity with the lowest IC50 value of 15 μg/ ml followed by hydrogen peroxide scavenging activity (IC50 values of 42 μg/ml). The highest percentage of inhibition of nitric oxide radical, superoxide radical and hydrogen peroxide radical scavenging activity was observed in methanol extract with low IC50 values. Acetone extract of E. fusiformis showed good chelating potential on ferrous ions in ferrous ion chelation assay, with least IC50 value. Conclusion: The results of present investigation suggest that E. fusiformis leaf extracts may be used as a natural antioxidant agent.
Downloads
Download data is not yet available.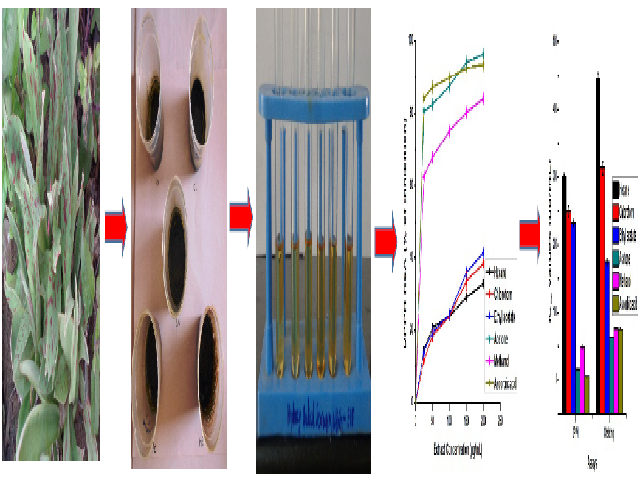 Downloads
CITATION
DOI: 10.5530/fra.2015.2.6
How to Cite
Kamalanathan, D. ., Srinivasan, R. ., Pratheeba, T., Yuvarajan, R., & Natarajan, D. . (2015). Antioxidant activities of leaf extracts of Euphorbia fusiformis Buch. -Ham. ex D. Don (Euphorbiaceae). Free Radicals and Antioxidants, 5(2), 83–89. https://doi.org/10.5530/fra.2015.2.6