Determination of Plasma Antioxidant Power in Capillary Blood through the Innovative system PAT (Plasma Antioxidant Test)
Keywords:
Oxidation, Plasma, Antioxidant, Phosphates, PAT
Abstract
Background: Plasma antioxidants (AOs) represent the main barrier of defense against damaging aggression due to reactive species, by reactive oxygen species (ROS). Moreover, changes in AOs plasma content after supplementation may provide information on the absorption and bioavailability of nutritional compounds and efficacy of AOs therapy. Aim: The aim of this study was to make a comparison between the known BAP test (Biological Antioxidant Potential), used for the evaluation of the antioxidant capacity, and the innovative PAT (Plasma Antioxidant Test), and the evaluation of the precision, linearity and accuracy of the new patented PAT on plasma samples taken from healthy volunteers. Materials and Methods: Twenty-two apparently healthy volunteers were involved in the study for the comparison of the two methods. Results: Analysis performed on 22 plasma samples demonstrated that, following the application of the algorithm, BAP and PAT were interchangeable. PAT resulted extremely precise, linear (R=0.9991), accurate and reproducible (CV 4.17%). PAT values from plasma samples had a normal distribution, evidencing a control range for healthy subjects. Conclusion: PAT can be considered an innovative and predictable method for the measure of the antioxidant power of plasma.
Downloads
Download data is not yet available.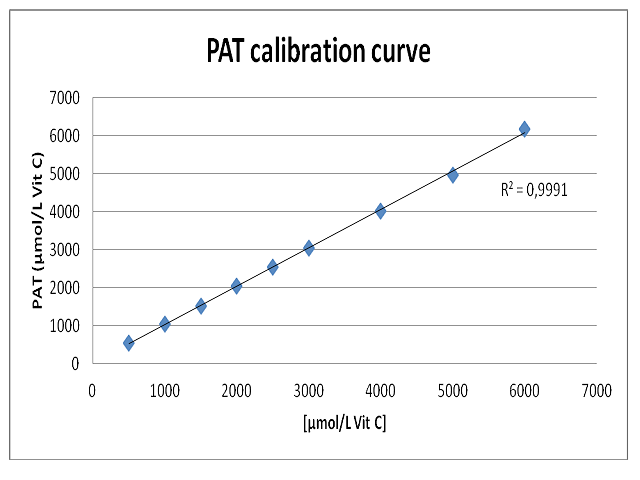 Downloads
CITATION
DOI: 10.5530/fra.2018.2.22
How to Cite
Serena, B., Mariangela, P., Annarosa, F., Davide, G., Simona, C., Serafina, B., & Umberto, C. (2018). Determination of Plasma Antioxidant Power in Capillary Blood through the Innovative system PAT (Plasma Antioxidant Test). Free Radicals and Antioxidants, 8(2), 149–152. https://doi.org/10.5530/fra.2018.2.22