A Comparison of the Antioxidants and Carbohydrates in Common Wines and Grape Juices
Keywords:
Antioxidants, Carbohydrates, Grape Juice, Oxidative Stress, Wine
Abstract
Objective: The positive benefits of drinking wine and grape juices for their antioxidant properties have been well documented. Comparing the antioxidants between wine and grape juice as well as different types of each should lead to a better understanding of these benefits. Method: Three wines: Concord grape, Pinot noir, and Pinot grigio, as well as three types of grape juice: homemade purple grape juice, Concord grape, and white were compared. The cupric reducing antioxidant capacity (CUPRAC) biochemical test for total antioxidant activity and a carbohydrate biochemical test were used. Result: The Pinot noir had more antioxidants than the Concord grape wine and the Pinot grigio. The purple and Concord grape juices had similar antioxidants and both had significantly higher antioxidants than any of the wines. The white grape juice had low antioxidant levels. All three grape juices had high and similar carbohydrate levels, while the Pinot noir and Pinot grigio were extremely low and the Concord grape wine fell in the middle. Conclusion: This study confirms that purple grapes and red wine have significantly more antioxidants than do green grapes or white wine. Conclusion: This study supports the drinking of both purple grape juice and red wine for their antioxidant activity.
Downloads
Download data is not yet available.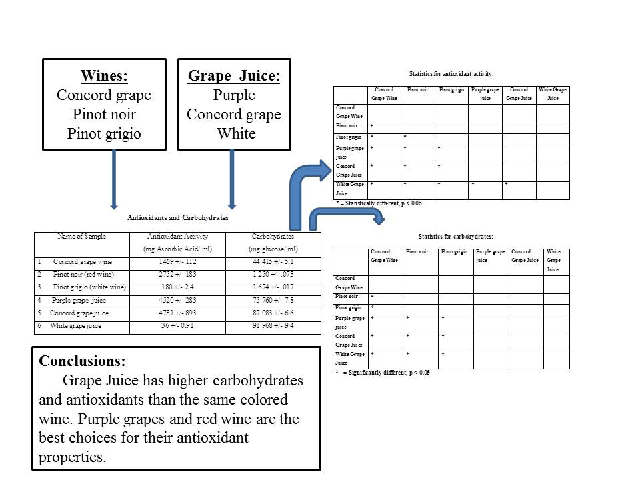 Downloads
CITATION
DOI: 10.5530/fra.2017.1.13
How to Cite
M Callaghan, C. ., E. Leggett, R. ., & M. Levin, R. . (2016). A Comparison of the Antioxidants and Carbohydrates in Common Wines and Grape Juices. Free Radicals and Antioxidants, 7(1), 86–89. https://doi.org/10.5530/fra.2017.1.13