Safety Profile and Effect on Libido of a Combined Bryophyllum pinnatum, Moringa oleifera and Vitamin C Phytotherapeutic Agent
Keywords:
Antioxidant, Male sexual function, Moringa, Side-effects, Supplement
Abstract
Introduction: Both Moringa oleifera and Bryophyllum pinnatum are well known phytotherapeutics with a range of potential applications that capitalize on their anti-oxidant properties, ranging from improving risk factors for cardiovascular disease to increasing sexual desire. The literature, however, mainly focuses on these effects in-vitro or in non-human subjects. Aims: We aimed to investigate the side effects of a combination agent with known proportions of these two phytotherapeutics, as well as to determine any effect on the human sexual drive. Method: Sixty nine (n=69) participants were enrolled in a prospective cohort study and followed up for a minimum of six months. Data regarding adverse effects and libido was determined from a 22-item Quality of Life questionnaire as well as a checklist of common side-effects completed at each monthly follow-up. Results: Eight participants were lost to follow-up; in the remaining participants there were no reported major adverse effects. No abnormal bleeding, urinary tract infections, asthma exacerbations, or changes in memory were reported. Minor issues reported by participants taking the agent included fluctuations in appetite (22.9%) and sleep pattern (16.4%), gastrointestinal upset (14.7%), respiratory symptoms, such as shortness of breath or wheezing (8.1%), and muscle aches (8.1%). Women did not report a change in libido whereas 31.8% of men reported a statistically significant increase in libido by their second to third follow up (p<0.05). Conclusion: This study acts as a small preliminary report and suggests that combination M. oleifera, B. pinnatum and vitamin C has a favorable safety profile and may increase libido in human males.
Downloads
Download data is not yet available.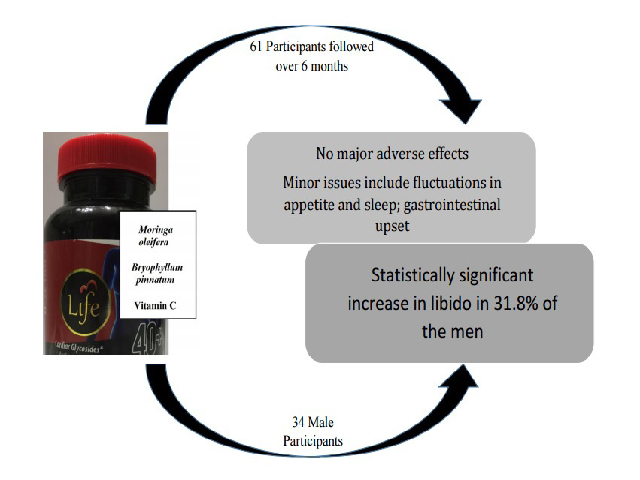 Downloads
CITATION
DOI: 10.5530/fra.2017.2.23
How to Cite
Alfred, S., Thompson, & Kimberlee. (2017). Safety Profile and Effect on Libido of a Combined Bryophyllum pinnatum, Moringa oleifera and Vitamin C Phytotherapeutic Agent. Free Radicals and Antioxidants, 7(2), 156–159. https://doi.org/10.5530/fra.2017.2.23