Antioxidant Activities of Root, Stem and Leaves of Vernonia cinerea (L) Less
Keywords:
ABTS, DPPH, LC-MS, Phosphomolybdenum, Vernonia cinerea
Abstract
Background: Vernonia cinerea (L) Less has ethnomedicinal importance and is well known for its anti-inflammatory and anticancerous properties. Objective: Present study investigates antioxidant activity of various crude extracts prepared from different organs of plant such as Root, Stem and Leaves using polar and nonpolar solvents. Materials and methods: The antioxidant activity was determined using different methods which includes radical scavenging assays (DPPH and ABTS) and phosphomolybdenum assay. LC- MS profiling was performed for the extracts showing maximum antioxidant activity to identify bioactive constituents. Result: Difference was observed in the antioxidant activities of extracts by different methods. Significant (p< 0.05) antioxidant activity was exhibited by different organs of a plant and different extracts. LC-MS analysis revealed the presence of phenols, terpenoids, quinones and steroids in the extracts. Conclusion: Different antioxidant assays help in knowing the antioxidant potential of different crude extracts. The bioactive constituents identified can be correlated to antioxidant activity and used in drug formulations.
Downloads
Download data is not yet available.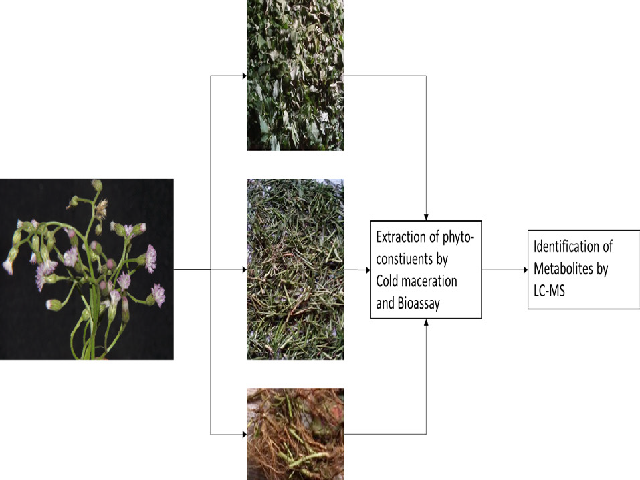 Downloads
CITATION
DOI: 10.5530/fra.2017.2.27
How to Cite
Goggi, A. ., & Malpathak, N. . (2017). Antioxidant Activities of Root, Stem and Leaves of Vernonia cinerea (L) Less. Free Radicals and Antioxidants, 7(2), 178–183. https://doi.org/10.5530/fra.2017.2.27