Comparative analysis of cytotoxic and antioxidant potential of edible Cinnamomum verum (bark) and Cinnamomum tamala (Indian bay leaf)
Keywords:
Human cancer cell lines , Free radical scavenging , Total phenols , Chelation power
Abstract
Background: Cinnamomum verum bark (Cinnamon or dalchini in Hindi) and Cinnamomum tamala leaf (Indian bay leaf or tejpatta in Hindi) are commonly used spices in the Asian subcontinent. In the present study, we compared the bioactive potential of these spices. Method: The plants were collected and extracted with different solvents. The extracts were analysed for in vitro cytotoxicity against human cancer cell lines by SRB assay. Antioxidant activity was measured in terms of DPPH radical scavenging and chelation power on ferrous ions. Relative phenolic content of extracts was also measured. Results: Comparative analysis demonstrated that C. verum (bark) has much greater cytotoxic as well as antioxidant potential than C. tamala (leaves). The bark methanol extract showed potential activity against prostrate (PC-3) and glioblastoma (T98G) cancer cell lines with 90% and 78% growth inhibition at 100 mg/ ml concentration respectively. The bark methanol extract also showed good DPPH free radical scavenging activity with IC50 111.5 0.62 mg/ml and moderate chelating power on ferrous ions IC50 108.7 0.53 mg/ ml. The total phenolic content of bark methanol extract was highest with 210 0.81 mg/g GAE. Conclusion: This study highlights the relative greater bioactive potential of C. verum (bark) and it can be deduced that it is a highly effective cytotoxic, antioxidant spice than Indian bay leaf.
Downloads
Download data is not yet available.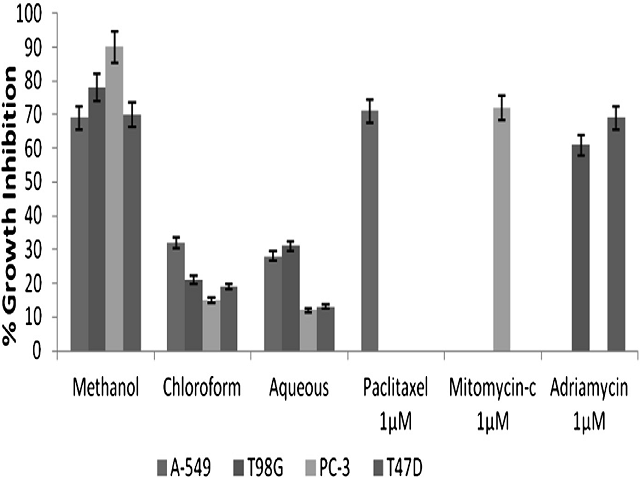 Downloads
How to Cite
Rasleen Sudan, Madhulika Bhagat, Sahil Gupta, Chitrarakha, & Tishu Devi. (2013). Comparative analysis of cytotoxic and antioxidant potential of edible Cinnamomum verum (bark) and Cinnamomum tamala (Indian bay leaf). Free Radicals and Antioxidants, 3(2 (Suppl), S70-S73. Retrieved from https://antiox.org/index.php/fra/article/view/177
Section
Short Communication