Sphaeranthus indicus: A Promising Antimicrobial Agent
Keywords:
Sphaeranthus indicus, Antibacterial activity, Minimum inhibitory concentration, Ethyl acetate, Acetone, n-hexane
Abstract
Objectives: The aim of the present study was to determine the antimicrobial property of the solvent extracts of flowers and aerial parts of S. indicus. Methods: The flowers and the aerial parts of Sphaeranthus indicus were extracted with n-hexane, benzene, chloroform, ethyl acetate and acetone respectively. The extracts were analyzed for the antimicrobial effect by disc diffusion method at concentrations of 5, 2.5 and 1.25 mg/disc. The Minimum Inhibitory Concentration (MIC) was tested using broth micro dilution method at concentrations ranging from 5 to 0.039 mg/ml. Results: There was a significant antibacterial and antifungal activity in hexane extract of flower and aerial parts. The MIC was seen at 0.15 mg/ml against Staphylococcus aureus and the highest MIC (5 mg/ml) was noted for S. epidermidis. The n-hexane extracts of flower and aerial parts showed MIC as 0.15 and 1.25 mg/ml respectively against Candida albicans. Conclusion: Concluding it can be said that the S. indicus flower n-hexane extract showed promising antimicrobial agent.
Downloads
Download data is not yet available.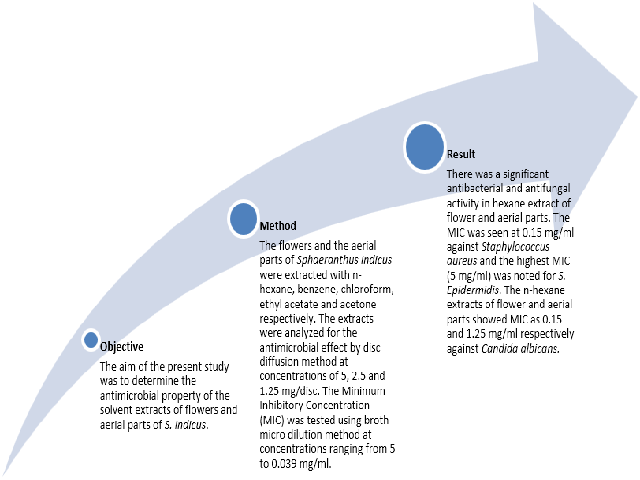 Downloads
CITATION
DOI: 10.5530/fra.2020.2.10
How to Cite
Kumar Saxena, P. ., Upadhyay, S., & Lodha, S. . (2021). Sphaeranthus indicus: A Promising Antimicrobial Agent. Free Radicals and Antioxidants, 10(2), 52–55. https://doi.org/10.5530/fra.2020.2.10