Haematological Parameters and Glutathione Peroxidase Activity in Rugby Players
Keywords:
Oxidative stress, Sports, Exercise, Rugby, Haematology and glutathione peroxidase.
Abstract
Background: Rugby is team sport and posses both running and contact play features. In a similar way as another sport producing both physical and psychological stress and both aerobic and anaerobic metabolism, rugby induces intensive oxidative stress. This in turn decreases glutathione peroxidase activity. Furthermore, the complete blood count is severely altered by such a condition. Methods: Twelve Italian rugby players were studied. Subjects were studied in the morning of the day of the match and 10 min after the end of match. Erythrocyte glutathione peroxidase activity was analyzed in control and athlete groups pre and post the rugby match both with and without in vitro addition of vitamin C. Using a Coulter counter, we measured red blood cell count, hematocrit, hemoglobin, mean corpuscular volume, white blood cell count, platelets, neutrophils, eosinophils and basophils in 12 male athletes, who gave their informed consensus. Results: GPX data show that its activity is increased by the in vitro addition of Vitamin C (48mM final concentration), both in controls and rugby players. Haematological data describe the major alterations of particulate fraction of blood from rugby players before and after one match and confirm the structural damages in this fraction. GPX activity is worsened by this kind of strenuous exercise and ascorbic acid relieves such damage. Complete blood cell counts of athletes confirm blood cell damages. Conclusion: In summary rugby players show evident cell count derangements and water-soluble reducing Vitamin C relieves oxidative damages of samples from test subjects undergone to full match fatigue.
Downloads
Download data is not yet available.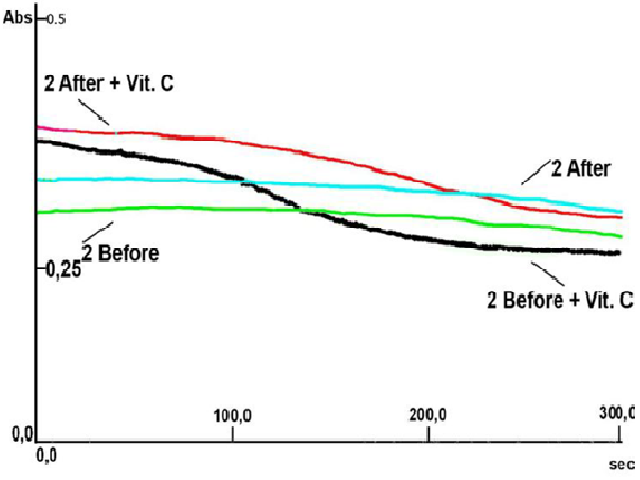 Downloads
CITATION
DOI: 10.5530/fra.2022.1.2
How to Cite
Gallo, G. ., Mazzulla, S. ., & Martino, G. . (2022). Haematological Parameters and Glutathione Peroxidase Activity in Rugby Players. Free Radicals and Antioxidants, 12(1), 09–14. https://doi.org/10.5530/fra.2022.1.2