Antioxidant Activities and Thin Layer Chromatographic Analysis of Aqueous Extract of Tubers of Drynaria quercifolia (L).J.Sm
Keywords:
Drynaria quercifolia, Phenols, Flavonoids, Antioxidant, Dot-blot assay
Abstract
Objectives: The aim of the study was to investigate phytochemical constituents, free radical scavenging activities and antimicrobial activities of the aqueous extract of tubers of Drynaria quercifolia. Materials & Methods: The qualitative and quantitative analyses were carried out for the aqueous extract using standard procedures. The antioxidant activities were carried out by DPPH free radical, ABTS•+ radical cation, OH• radical, NO• radical scavenging assays as well as Fe3+ reducing power and phosphomolybdenum reduction assays. Results: The tubers of D. quercifolia in aqueous extract showed good radical scavenging as well as reducing power activities. The major phytochemicals such as phenols and flavonoids were estimated as 4.29±1.23 and 24.56±0.86 μg/mL respectively. Conclusion: The aqueous extract of tubers of D. quercifolia possesses significant antioxidant activities.
Downloads
Download data is not yet available.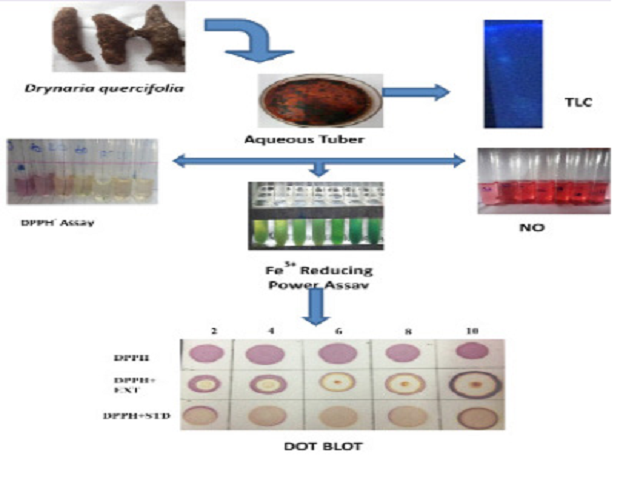 Downloads
CITATION
DOI: 10.5530/fra.2018.1.5
How to Cite
Sivaraj, C., Aashinya, Y., Sripriya, R., & Arumugam, P. . (2017). Antioxidant Activities and Thin Layer Chromatographic Analysis of Aqueous Extract of Tubers of Drynaria quercifolia (L).J.Sm. Free Radicals and Antioxidants, 8(1), 26–31. https://doi.org/10.5530/fra.2018.1.5