In vivo Anti-oxidant Activity of Dhatrinisha churna and Manjisthadi churna in High Fat Diet Induced Oxidative Stress
Keywords:
Manjisthadi churna, Dhatrinisha churna, Anti-oxidant activity
Abstract
Background: Dhatrinisha churna and Manjisthadi churna have been traditionally used in the Ayurvedic system of medicine and by traditional medical practicioners of India to treat hyperlipidemia. Objective: To evaluate the antioxidant activity of Dhatrinisha churna and Manjisthadi churna in experimental hyperlipidemic rats. Materials and Methods: Hyperlipidemia was induced by administrating exogenous cholesterol. Assessment of anti-oxidant status for liver was carried out by assay of various physiological enzymatic (like SOD, catalase, gluatathione peroxidase) and non enzymatic (GSH, lipid peroxidative indices) antioxidant. Result: Significant increase in the level of enzymes like SOD, catalase, glutathione peroxidase, GSH and decrease in lipid peroxidase were observed in drug treated animals. Conclusion: In conclusion, these observations show that Manjisthadi churna and Dhatrinisha churna exert their protective effect by improving antioxidant status and decreasing the lipid peroxidation, thus establishing them as an effective antioxidant.
Downloads
Download data is not yet available.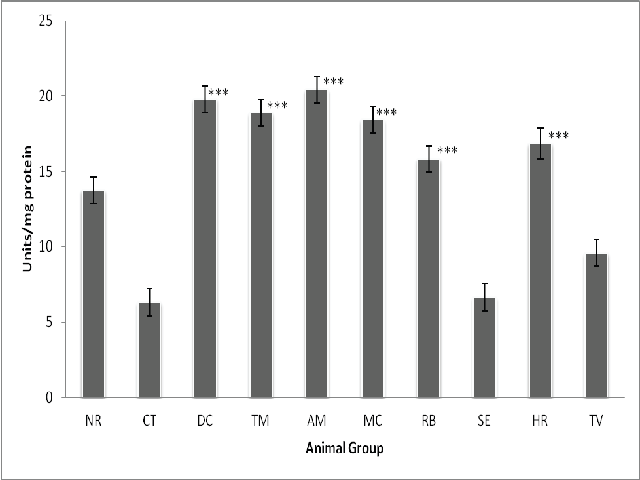 Downloads
CITATION
DOI: 10.5530/ax.2012.2.2.4
How to Cite
R Patel, V., & K Patel, R. (2012). In vivo Anti-oxidant Activity of Dhatrinisha churna and Manjisthadi churna in High Fat Diet Induced Oxidative Stress. Free Radicals and Antioxidants, 2(2), 19–23. https://doi.org/10.5530/ax.2012.2.2.4