Antioxidant Activity of Raw and Roasted Peanut (Arachis hypogaea L.) Skins Extracts
Keywords:
Antioxidant, Peanut skins, Roasting, Phytochemicals, Percentage inhibition.
Abstract
Background: Peanut skins are a by-product from peanut but with low socio-economic value despite having appreciable amounts of bioactive phytochemicals. Studies are on-going to remove some astringent properties in peanut skins and improve its values. In this study, the in vitro antioxidant activity of raw peanut skins and roasted peanut skins extracts were determined in hydro alcoholic medium. Materials and Methods: The raw and roasted peanut skins powders were each subjected to extraction procedure in 70% methanol for 48 hr. The phytochemical screening including total phenolic and flavonoid contents (TPC, TFC) were determined. The antioxidant activity including DPPH radical scavenging, Fe2+-chelating, ferric reducing antioxidant property (FRAP), OH- radical scavenging and reducing power assays were determined and compared against standard antioxidants. Results: The results showed significantly higher (p<0.05) TPC and total antioxidant capacity in the raw extract compared to the roasted extract. The roasted peanut skins extract showed significantly higher (p<0.05) DPPH radical, OH- radical scavenging capacity, Fe2+-chelating and ferric reducing antioxidant property compared to the raw peanut skins extract. Both extracts each produced concentration dependent percentage inhibitions which were significantly lower than the antioxidant standards used. Conclusion: The results showed that roasting improved the in vitro antioxidant properties of the peanut skins compared to the raw peanut skins. This could add value to its use as functional food component, antioxidant and in animal feed industries.
Downloads
Download data is not yet available.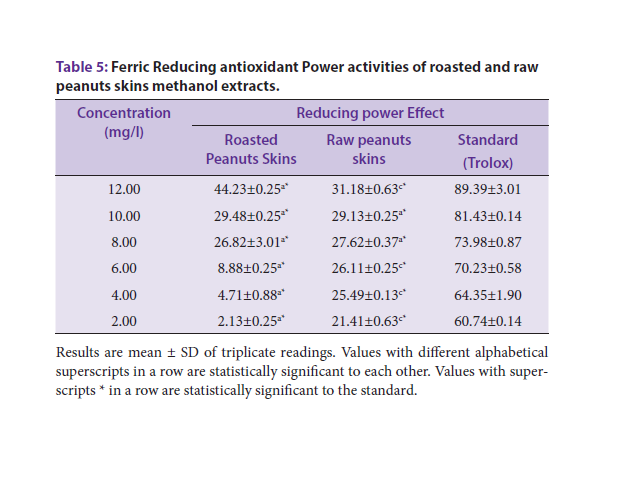 Downloads
CITATION
DOI: 10.5530/fra.2022.2.11
How to Cite
Ugwu, C. E. . ., & Suru, S. M. . (2022). Antioxidant Activity of Raw and Roasted Peanut (Arachis hypogaea L.) Skins Extracts. Free Radicals and Antioxidants, 12(2), 63–69. https://doi.org/10.5530/fra.2022.2.11