In vitro Antioxidant Property and Acute Toxicity Study of Methanol Extract of Leaves of Zingiber officinale and Curcuma longa
Keywords:
Ginger, Turmeric, Phytochemicals, Antioxidants, Toxicity, Leaves
Abstract
Background: Zingiber officinale (ginger) and Curcuma longa (turmeric) are perennial herbs grown in tropical and sub- tropical regions. Both plants have unique aroma and are used for the treatment of various diseases. Their roots have been extensively studied by other researchers. Therefore, this current study focused on the leaves rather than roots, evaluating the phytochemical constituents, in vitro antioxidant activity and acute toxicity. Methods: Screening of phytochemicals and in vitro antioxidant activity were carried out spectrophotometrically using standard protocols. Acute toxicity testing was done by administering (orally) varying concentrations (100-2000mg/kg body weight) of extracts to Wistar rats weighing 120-140 (grams) Results: Flavonoids, tannins, phenolic compounds, saponinis, glycosides and steroids were qualitatively detected in both extracts. Quantitatively, methanol extract of leaves of Zingiber officinale had significantly higher (p < 0.05) concentrations of total phenol, total flavonoids, total tannins, total proanthocyanidins, total hydroxy cinnamic acids, ferric reducing antioxidant power (FRAP), total antioxidant capacity, 1,1–diphenyl–2–picrylhydrazyl (DPPH) radical scavenging activity than extract of Curcuma longa. Furthermore, there was no physical sign of intoxication or mortality in rats that were administered the extracts. Conclusion: Leaves of Zingiber officinale and Curcuma longa may be good sources of safe phytochemicals and antioxidants that would be useful in the food and pharmaceutical sectors.
Downloads
Download data is not yet available.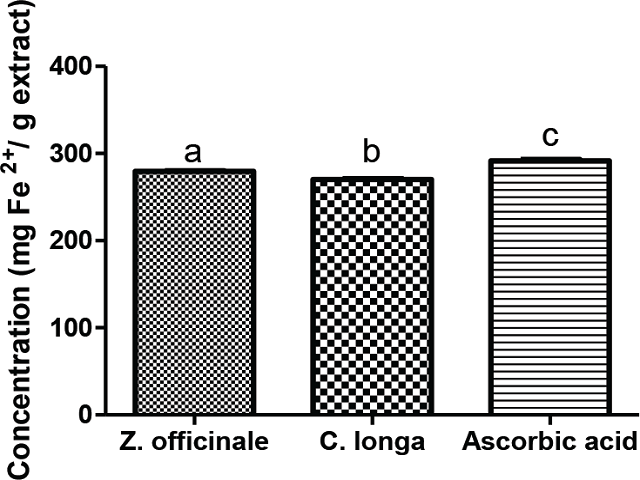 Downloads
CITATION
DOI: 10.5530/fra.2021.2.10
How to Cite
Ibukun, O., & Oluwadare, E. E. (2021). In vitro Antioxidant Property and Acute Toxicity Study of Methanol Extract of Leaves of Zingiber officinale and Curcuma longa. Free Radicals and Antioxidants, 11(2), 42–45. https://doi.org/10.5530/fra.2021.2.10