Analysis of Antioxidant Activities, Phenolic and Other Metabolites of Some Biomass Waste (Leaves) of India
Keywords:
Antioxidants, GC-MS, Leaf waste, Phytochemicals
Abstract
Background: Antioxidants have important role on human health as well as in food industry. Natural antioxidants are preferred to synthetic antioxidants. Objective: In this study attempt was made to explore the leaf biomass, generally wasted and burnt, as sources of important antioxidant compounds. Methods: Extracts of leaves from five plants e.g. Artocarpus heterophyllus, Haldina cordifolia, Magnolia champaca, Mimusops elengi and Syzygium cumini were analyzed for their antioxidant properties by four different systems of assays. Identification and quantification of important components were performed using GC-MS. Results: All the extracts scavenged DPPH radical, superoxide radical, and chelated metal. S. cumini showed strongest antioxidant activities in all systems of assays. Many important phenols and other metabolites were identified. Correlation between activity and metabolite profile helped to identify important antioxidant compounds in the extracts. Important phenolic antioxidants identified were catechin, epicatechin, protocatechuic acid (from S. cumini), gallic acid, myricetin (from S. cumini, M. elengi), arbutin, 4-hydroxycinnamic acid (from M. elengi). Conclusion: Thus, the leaf biomass may be used as an alternative source of these important phytochemicals having antioxidant activity.
Downloads
Download data is not yet available.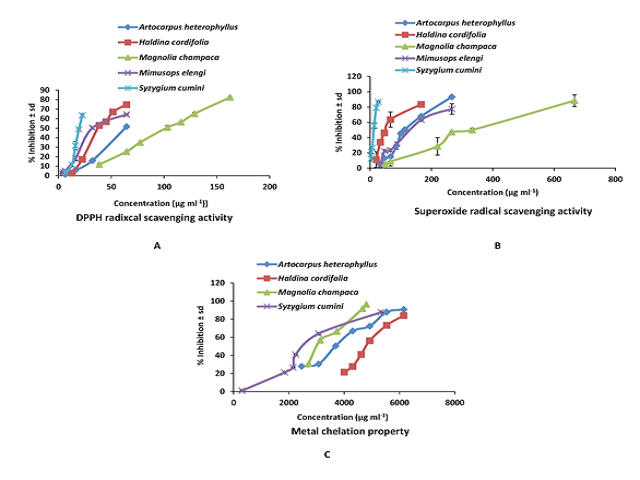 Downloads
CITATION
DOI: 10.5530/fra.2018.2.16
How to Cite
Begum, S., Banerjee, A., & De, B. (2018). Analysis of Antioxidant Activities, Phenolic and Other Metabolites of Some Biomass Waste (Leaves) of India. Free Radicals and Antioxidants, 8(2), 102–110. https://doi.org/10.5530/fra.2018.2.16