Evaluation of Antioxidant and Immunomodulatory Potential of Methanolic Extract of Juniperus squamata Buch.-Ham. ex D.Don
Keywords:
Carbon clearance, Delayed hypersensitivity, Fenton reaction, In vitro antioxidant, Lipid peroxidation
Abstract
Background: Antioxidant plays a vital role in scavenging of free radicals, thus, providing protection against oxidative stress. Now the modern research is directed towards the discovery of herbal antioxidants and immnomodulators due to their lesser side effects. Objective: The aim of the present study is to evaluate the antioxidant and immunomodulatory potential of methanolic extract of Juniperus squamata from the Apharwat region of Gulmarg. Materials and method: The antioxidant activity of methanol extract of Juniperus squamata was evaluated by using 1, 1-diphenyl, 2-picrylhydrazyl (DPPH) scavenging, reducing power, hydroxyl radical scavenging, hydrogen peroxide scavenging activity and lipid peroxidation. Furthermore, the immunomodulatory potential of the extracts was investigated through the Delayed type hypersensitivity and phagocytic carbon clearance assay. Results: The highest phenolic content of 780 GAE/g (Total phenolic content) was observed in the methanolic extract, while the lowest Total phenolic content of 459 mg GAE/g was achieved in the petroleum ether extract. At a concentration of 700 g/mL, DPPH radical scavenging activity was found to be highest in methanolic extract (82.12%). Methanol extract was found to be an efficient scavenger of hydrogen peroxide radical and lipid peroxidation with IC50 values of 161.44 ± 0.08 μg/mL and 78.65 μg/mL respectively. Administration of plant extract (100 and 200 mg/kg body weight) increased the DTH response and phagocytic carbon clearance significantly. Conclusion: The results indicate that the methanolic leaf extract of Juniperus squamata has good antioxidant and immunomodulatory potential.
Downloads
Download data is not yet available.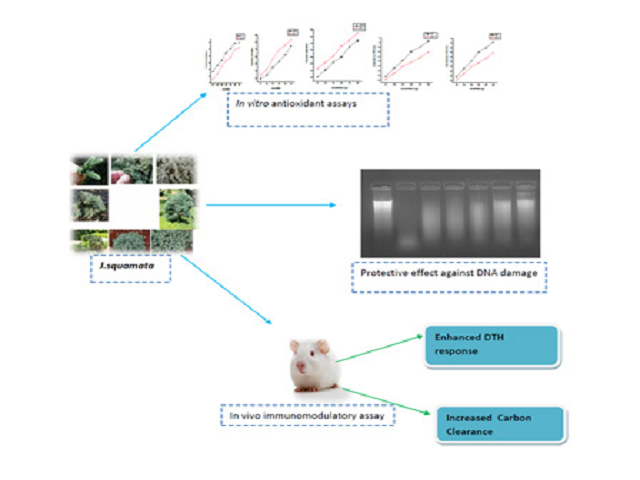 Downloads
CITATION
DOI: 10.5530/fra.2018.2.17
How to Cite
Ali, R., Sajjad, N., Qureshi, S., Hassan, S., Ahmad, M., Ganie, S. A., & Hamid, R. (2018). Evaluation of Antioxidant and Immunomodulatory Potential of Methanolic Extract of Juniperus squamata Buch.-Ham. ex D.Don. Free Radicals and Antioxidants, 8(2), 111–119. https://doi.org/10.5530/fra.2018.2.17