Evaluation and Comparison of Antioxidant Activity of Leaves, Pericarps and Pulps of Three Garcinia Species in Malaysia
Keywords:
Antioxidant activity, Free radical scavenging, Garcinia, Pericarp, Total phenolic content
Abstract
Background: Garcinia genus plants are a group of well-known fruit trees in Malaysia.The botanical parts of the trees are used for medicinal purposes, where they are prepared as decoction, pastes for wound infections, and some have been consumed as food. Objectives: This paper focused on the assessment of antioxidant potential of three selected Garcinia species commonly used in Malaysia. Materials and Methods: Fresh plant materials were extracted using maceration, and various antioxidant activities of the extracts were evaluated. In vitro antioxidant properties studied were total phenolic and anthocyanin content, free radical scavenging (FRS), ferric reducing power (FRP) and ferrous ion chelating (FIC) activities. Results: G. mangostana leaves and pericarps were found to consist of the highest TPC, FRS and FRP activities, followed by G. hombroniana and G. atroviridis. TAC was found only in G. mangostana pericarps. For fruit pulps, G. hombroniana exhibited the highest antioxidant activities (TPC, FRS and FRP), while G. mangostana had the lowest activities. FIC activity of the Garcinia samples behaved in dose-dependent manner and not correlated with TPC and other antioxidant activities. Conclusion: In general, G. mangostana and G. hombroniana leaves and pericarps exhibited good antioxidant activities, but the antioxidant activities in their fruit pulps were relatively low. G. atroviridis leaves and pericarps generally have lower antioxidant activities than the other species.
Downloads
Download data is not yet available.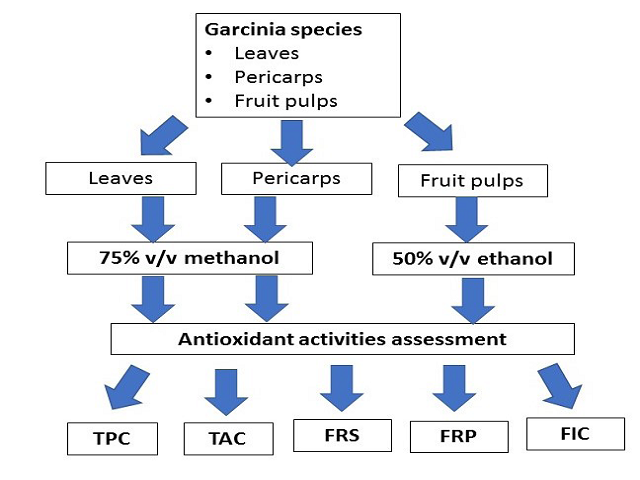 Downloads
CITATION
DOI: 10.5530/fra.2018.2.19
How to Cite
Chew, Y.-L., & Lim, Y.-Y. (2018). Evaluation and Comparison of Antioxidant Activity of Leaves, Pericarps and Pulps of Three Garcinia Species in Malaysia. Free Radicals and Antioxidants, 8(2), 130–134. https://doi.org/10.5530/fra.2018.2.19