In vitro Antioxidant Assay of Methanol Extract of Buddleja asiatica
Keywords:
Buddleja asiatica, Antioxidant activity, CUPRAC, Metal ion chelation, Phenyl ethanoid glycosides
Abstract
Objective: At molecular and cellular level, antioxidants tend to inactivate harmful free radicals. In current study, methanol extract of Buddleja asiatica (loganiaceae) was screened for its antioxidant activity using biologically relevant methodologies. Methods: The whole plant of methanol extract of Buddleja asiatica was screened for its in vitro free radical scavenging assays like DPPH (1,1 diphenyl 2 picryl hydrazyl) assay, nitric oxide scavenging activity, hydrogen peroxide scavenging activity, hydroxyl radical scavenging activity, superoxide anion radical scavenging activity, CUPRAC (cupric ions reducing) assay, DMPD (N, N-dimethyl-p-phenylene diamine dihydrochloride) assay, metal ion chelation assay xanthine oxidase inhibitory activity and lipid peroxidation assay. Results: The IC50 values were found to be 15 μg/ml, 96.2 μg/ml, 35.2 μg/ml, 52.2μg/ml, 40.98 μg/ml, 18.02 μg/ml, 43.6 μg/ml 55.6 μg/ml and 136.2 μg/ml for DPPH free radical, nitric oxide radical, hydrogen peroxide radical, hydroxyl radical, superoxide anion radical, DMPD radical, metal ion chelation, xanthine oxidase inhibitory activity and lipid peroxidation assays respectively. The absorbance of methanol extract of Buddleja asiatica in CUPRAC assay was found to be 0.6772 at the highest concentration tested. Results were compared with commercial antioxidants such as quercetin, rutin, vitamin E, curcumin, gallic acid, EDTA and allopurinol. Conclusion: The strong antioxidant activity of Buddleja asiatica may be credited to the presence of phenyl ethanoid glycosides (E-acteoside,), iridoid glucosides (methylcatalpol, catalpol, aucubin), non phenolic compounds (1-O-beta-D-glucopyranosyl-2-methoxy- 3-(2-hydroxy-triaconta-3,12-dienoate)-glycerol), flavonoids (ajugol), sterols (buddlejol, stigmasterol, taraxerol), triterpenoids (13, 28-epoxy-23-hydroxy-11-oleanene-3-one) and essential oils in methanol extract.
Downloads
Download data is not yet available.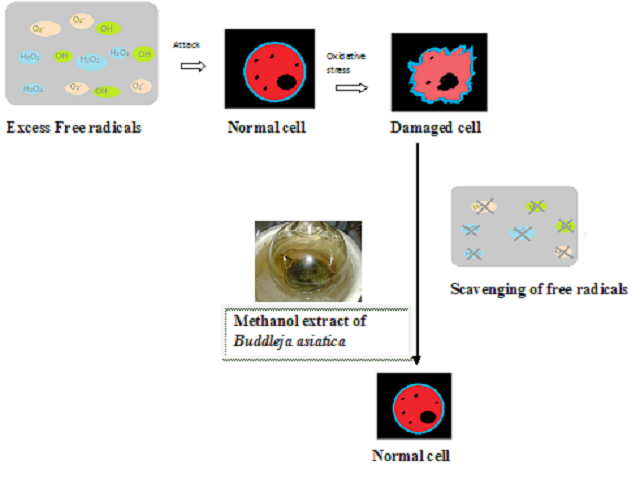 Downloads
CITATION
DOI: 10.5530/fra.2018.1.9
How to Cite
Sundararajan, R., & Ilengesan, R. (2017). In vitro Antioxidant Assay of Methanol Extract of Buddleja asiatica. Free Radicals and Antioxidants, 8(1), 55–61. https://doi.org/10.5530/fra.2018.1.9