In vitro antioxidant activity on roots of Limnophila heterophylla
Keywords:
Limnophila heterophylla, ABTS, Phosphomolybdic acid, Plantaginaceae, Reducing ability
Abstract
Objective: The present study was investigating the antioxidant activity of methanol extract of roots of Limnophila heterophylla (Plantaginaceae). Methods: Roots of methanol extract of Limnophila heterophylla were tested for in vitro free radical scavenging assays, such as hydroxyl radical, antioxidant assay by thiocyanate method, inhibition of superoxide anion radical, 2, 2-diphenyl-1-picryl hydrazyl radical (DPPH), lipid peroxidation assay, scavenging of 2, 2'- azino-bis (3-ethylbenzothiazoline-6-sulphonic acid) diammonium salt radical cation assay (ABTS), total antioxidant activity (phosphomolybdic acid method) and reducing ability. Results: Limnophila heterophylla roots extract effectively scavenged free radicals at all different concentrations and showed its potent antioxidant activity. Further, these effects were in a dose dependent manner. Results were compared to standard antioxidants such as vitamin E, α-tocopherol, curcumin, quercetin, rutin, butylated hydroxytoluene (BHT), and ascorbic acid. Conclusion: Limnophila heterophylla enclose strong antioxidant potential. Further the study validates the therapeutic benefits of the Indian system of medicine.
Downloads
Download data is not yet available.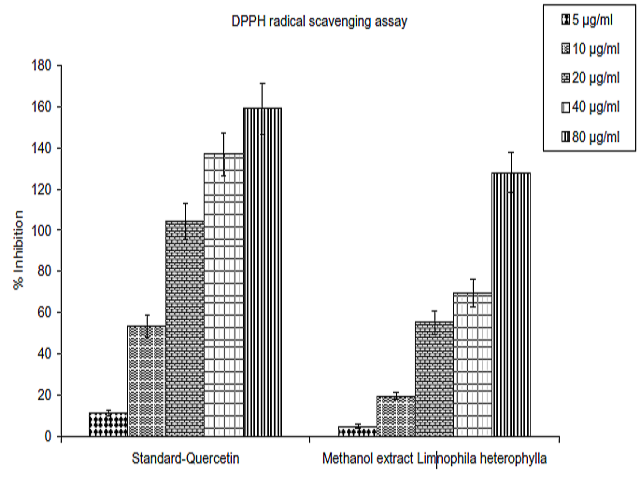 Downloads
CITATION
DOI: 10.5530/fra.2016.2.8
How to Cite
Sundararajan, R. ., & Koduru, R. . (2016). In vitro antioxidant activity on roots of Limnophila heterophylla. Free Radicals and Antioxidants, 6(2), 178–185. https://doi.org/10.5530/fra.2016.2.8