Antioxidant Properties of Extracts from Leaves of Evolvulus alsinoides Linn
Keywords:
Antioxidant activity, Butyl hydroxyl toluene, Convolvulaceae, Evolvulus alsinoides Linn, Phenolic content
Abstract
Introduction: In the present study, hexane, chloroform, ethyl acetate, butanol and methanol extracts of fruits of Evolvulus alsinoides Linn (Convolvulaceae) were examined total phenolics (TP) and in vitro antioxidative capacity. Methods: For the determination of total phenolics (TP) and in vitro antioxidative capacity, established assay methods such as 1, 1 - diphenyl – 2- picryl hydroxyl (DPPH) radical assay, reducing power, ferric ion chelating assay, superoxide anion, and nitric oxide scavenging activity assays were used with reference to synthetic antioxidant butyl hydroxyl toluene (BHT). One way analysis of variance (ANOVA) and Duncan's Multiple Range Test (DMRT) were carried out. Results: The TP ranged from 1686 ± 1.527 mg GAE /100 of Dry weight (DW) to 1255 ± 0.020 mg GAE/100 of Dry weight (DW). The data obtained from the study showed high levels of antioxidant activity of the fruit extracts. Conclusion: From the findings, it was observed that there was a well correlation between antioxidant activity and total phenolic/flavonoid contents. These results may be useful to further analyze wild edible fruits that contain most antioxidant activity in order to identify the active constituents.
Downloads
Download data is not yet available.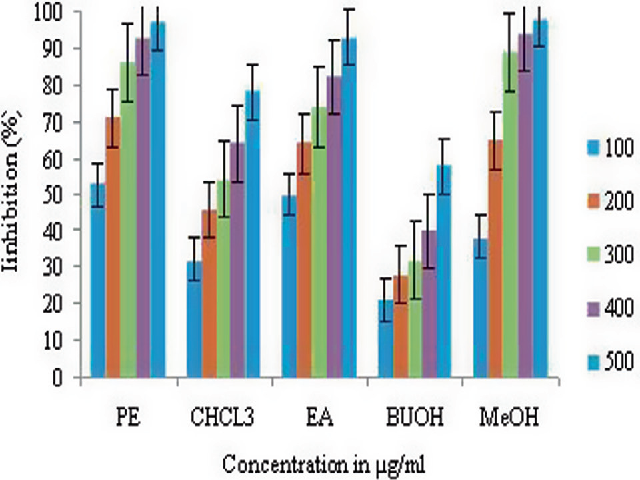 Downloads
CITATION
DOI: 10.5530/ax.2011.1.10
How to Cite
Vijayalakshmi, N. ., Preethi, K. ., & Sasikumar, J. M. . (2020). Antioxidant Properties of Extracts from Leaves of Evolvulus alsinoides Linn. Free Radicals and Antioxidants, 1(1), 61–67. https://doi.org/10.5530/ax.2011.1.10
Section
Short Communication