Oxidative effect ferumoxytol and iron dextran on urinary bladder contraction and impact of antioxidants
Keywords:
Intravenous iron , Oxidative stress , Antioxidants , Ferumoxytol , Iron dextran
Abstract
Introduction: Intravenous (IV) iron compounds enjoy widespread clinical use. No studies have examined the effect of antioxidants on oxidative damage-associated changes in bladder contractility from IV iron compounds. Objective: To determine if oxidative stress from 2 IV iron compounds effect rat bladder contraction and if coadministered antioxidants are protective. Methods: Three groups of 6 SD rats were studied. Group 1 received weekly 1 mg/kg doses of ferumoxytol (FX) or iron dextran (ID) for 5 doses. Group 2 received coenzyme Q10 (5 mg/kg) plus alpha lipoic acid (10 mg/kg) daily for 4 weeks before starting IV iron, then 1 mg/kg of the 2 iron compounds weekly for 5 doses. Antioxidant treatment continued until the last iron dose. Group 3 were controls and received saline and half received the antioxidants over the same time period. Seven days after the last iron dose, liver and heart samples were analyzed for nitrotyrosine (NT) and dinitrophenol (DNP) content. The contractile responses of bladder strips to field stimulation (FS) (2, 8, and 32 Hz), carbachol (10 mg), and KCl (120 mM) were determined. Results: DNP concentrations in heart and liver after treatment with FX were similar to control. NT concentrations in both tissues were increased above control with FX. DNP and NT concentrations of both tissues due to ID were higher than both controls and FX. FX had no effect on bladder contractile responses to any form of stimulation, but ID produced decreases in bladder responses to all stimuli. Antioxidants had no effect on bladder contractility in FX-treated rats, but contractile responses to all forms of stimulation were increased by the antioxidants in ID-treated rats. The antioxidants had no effect on control rats. Conclusion: FX and ID caused oxidative stress to several organs, but FX was less stressful than ID. Antioxidants attenuated the effects of ID on bladder contractility.
Downloads
Download data is not yet available.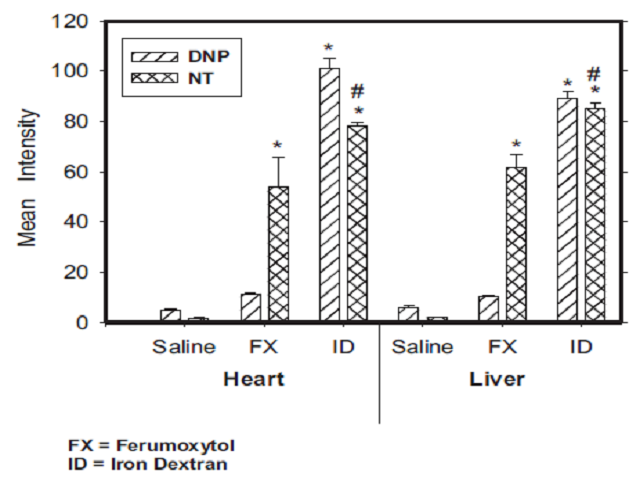 Downloads
How to Cite
George R. Bailie, Catherine Schuler, Robert E. Leggett, & Robert Levin. (2013). Oxidative effect ferumoxytol and iron dextran on urinary bladder contraction and impact of antioxidants. Free Radicals and Antioxidants, 3(1), 7–10. Retrieved from https://antiox.org/index.php/fra/article/view/208