Wound Healing Activity of Herbal Ointment Containing the Extracts of Hibiscus rosa-sinensis Flowers and Curcuma longa Rhizomes
Keywords:
Hibiscus rosa-sinensis, Curcuma longa, Wound healing
Abstract
Objectives: To evaluate wound healing activity of herbal ointment containing the extracts of Hibiscus rosa-sinensis flowers and Curcuma longa rhizomes. Methodology: H. rosa-sinensis flowers and C. longa rhizomes were extracted using 95% ethanol. H. rosa-sinensis and Hibiscus rosa-sinensis ointment were prepared using paraffin wax, lanolin and petroleum jelly. Ointment formulation was applied once daily on the excision wound made on Sprague Dawley rats for 20 days. Results: On day 20, the treatment group showed a significant increase in wound contraction which was 93.52 ± 1.38% when compared to control (87.62 ± 1.48%). Conclusion: Herbal ointment exhibited significant wound healing activity in rat excision wound model.
Downloads
Download data is not yet available.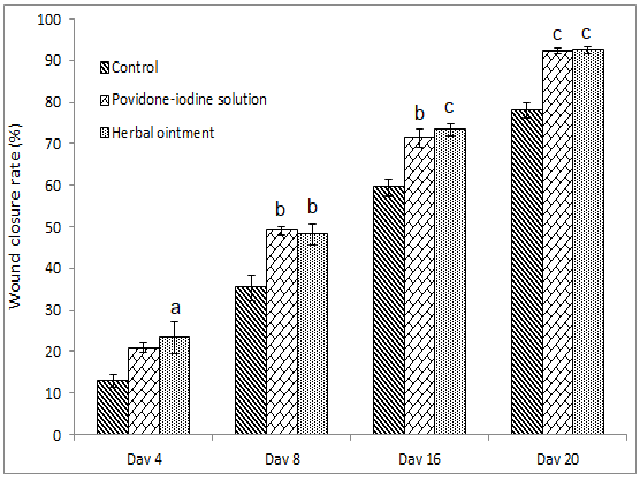 Downloads
CITATION
DOI: 10.5530/fra.2020.2.15
How to Cite
Mustaffa, F. ., Parasuraman, S. ., & Sahgal, G. . (2021). Wound Healing Activity of Herbal Ointment Containing the Extracts of Hibiscus rosa-sinensis Flowers and Curcuma longa Rhizomes. Free Radicals and Antioxidants, 10(2), 86–88. https://doi.org/10.5530/fra.2020.2.15
Section
Short Communication