Antioxidants, Free Radicals Scavenging and Xanthine Oxidase Inhibitory Potentials of Ajuga iva L. Extracts
Keywords:
Ajuga iva L, Reducing power, , FRAPS, Superoxide anion radicals, Phenolic compounds, Antioxidants ß-carotene/linoleic acid, FRAPS
Abstract
Introduction: Antioxidant effects of Ajuga iva L extracts (AIE), a traditionally used plant in Algerian folk medicine, were investigated. This plant is widely used to treat diabetes, gastric ulcer, dysuria, painful joints of the limbs and other free radicals related disorders. Methods: In order to determine the antioxidant activities of AIE, the shoot extracts were prepared using solvents of varying polarity. Xanthine oxidoreductase (XOR) was purified from bovine milk. Anti-radical activities were determined by enzymatic and non enzymatic methods: The enzymatic methods were realised by either production of uric acid or reduction of cytochrome c. The non enzymatic methods were conducted using in vitro techniques: NBT test, ß-carotene linoleate acid, 1,1- diphenyl-2 picrylhydrazyl (DPPH) radical-scavenging, ferric reducing /antioxidant power (FRAP) and Ferrous ion chelating activity. Results: All extracts showed inhibitory properties on xanthine oxidase, the IC50 (μM / quercetin equivalen) ranges from 3.878 ± 0.717 to 5.835 ± 0.468), with an additional superoxide scavenging capacity. These extracts showed a potent DPPH radical scavenging activity and a powerful scavenging activity of superoxide anion more than that of gallic acid using NBT test. They possess a similar inhibition ratio of the linoleic acid oxidation to that of the BHT, and gave a reduction power better than rutin in Ferric Reducing Ability of Plasma assay (FRAP). However, they were weaker than EDTA in Fe2+ chelating activity. Conclusion: Ajuga iva L. appears to be a valuable plant and could be used to treat conditions where inhibition and free-radicals scavenging of XO is warranted.
Downloads
Download data is not yet available.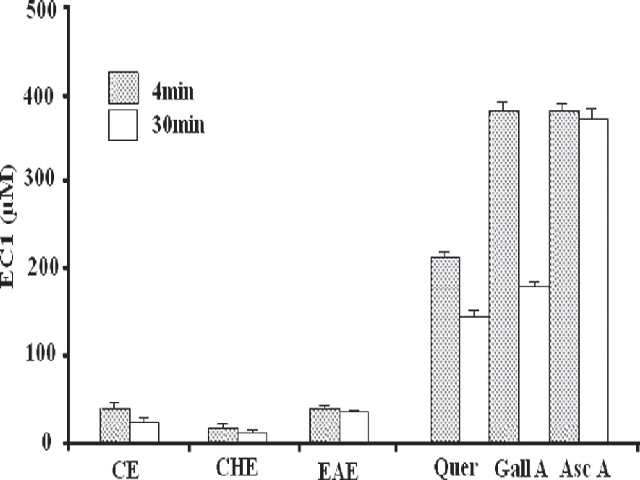 Downloads
How to Cite
BAGHIANI, A. ., BOUMERFEG, S. ., ADJADJ, M., AMENI, D. ., DJERMOUNI, M., KHELIFI-TOUHAMI, F., CHAREF, N. ., KHENNOUF, S., & ARRAR, L. (2020). Antioxidants, Free Radicals Scavenging and Xanthine Oxidase Inhibitory Potentials of Ajuga iva L. Extracts. Free Radicals and Antioxidants, 1(4), 21–30. https://doi.org/10.5530/ax.2011.4.5