Synthesis of Schiff base Metal Complexes with Motivating Scavenging Potential Studies
Keywords:
2H-chromen-2-one Scavengers, Hydrogen peroxide.
Abstract
Objective: Schiff's base complexes can be important substitutes for some antioxidant drugs because they have a carbon-nitrogen (N-C) double bond with the ability to push the electrons into the transition metal. Methods: A series of Schiff base metal complexes have been synthesized by the condensation of MCl2.nH2O (M = Co, Ni, Cu) with 1-(2hydroxybenzylideneamino) quinolin-2(1H)-one. Results: The Schiff base and it metal complexes have been characterized by various instrumental techniques like element chemical analysis, molar conductance, magnetic susceptibility measurements and spectral studies. The investigated complexes were subjected to antioxidant studies. The investigated complexes showed an excellent activities as antioxidant as compared to the parent Schiff base and standard compound. Conclusion: The data showed that transition metal complexes have significant improved antioxidant activity than Schiff base.
Downloads
Download data is not yet available.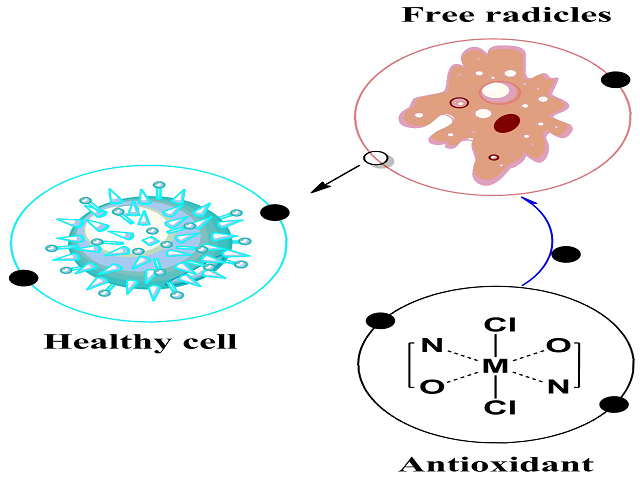 Downloads
CITATION
DOI: 10.5530/fra.2019.1.1
How to Cite
Al-Azawi, K., AL-Duhaidahawi, D. L., Al-Amiery, A., & Hassan Kadhum, A. A. (2019). Synthesis of Schiff base Metal Complexes with Motivating Scavenging Potential Studies. Free Radicals and Antioxidants, 9(1), 1–4. https://doi.org/10.5530/fra.2019.1.1