In-vitro antioxidant activity and phytochemical analysis in extracts of Hibiscus rosa-sinensis stem and leaves
Keywords:
Hibiscus rosa-sinensis, Antioxidant capacity, Scavenging activity, In-vitro models
Abstract
Free radicals induce numerous diseases by lipid peroxidation, and DNA damage. It has been reported that numerous plant extracts have antioxidant activities to scavenge free radicals. In the present study, the antioxidant properties of crude (aqueous and methanolic) extract of Hibiscus rosa sinensis (Malvaceae) were studied in six in vitro models viz. radical scavenging activity by DPPH reduction Assay, Scavenging of SO, H2O2 and NO, reducing power, FRAP assay. The extract was found to contain large amounts of phenolic compounds and flavonoids. Methanolic extract of Hibiscus rosa-sinensis possessed significant antioxidant activity as compare to aqueous extract. These results suggest that hibiscus has potential to develop a new functional dietary agent to treat chronic metabolic diseases, such as diabetes and hyperlipidemia.
Downloads
Download data is not yet available.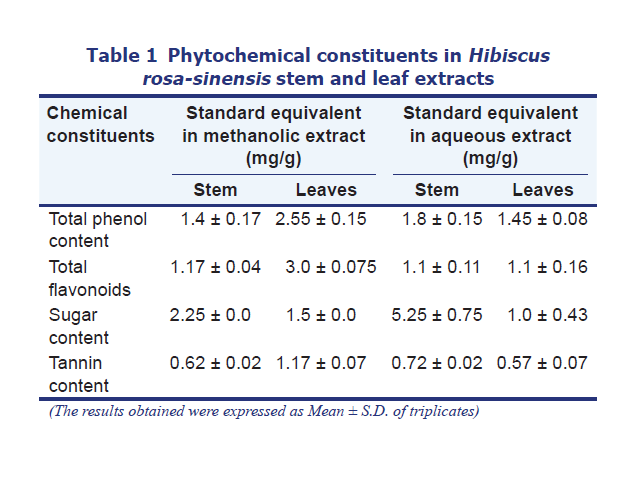 Downloads
How to Cite
Deepa Garg, Ayesha Shaikh, Aditya Muley, & Thankamani Marar. (2012). In-vitro antioxidant activity and phytochemical analysis in extracts of Hibiscus rosa-sinensis stem and leaves. Free Radicals and Antioxidants, 2(3), 41–46. https://doi.org/10.5530/ax.2012.3.6