Studies on Phytochemical Constituents, Quantification of Total Phenolic, Alkaloid Content and In-vitro Anti-oxidant Activity of Thespesia populnea Seeds
Keywords:
Thespesia populnea Seeds, Total Phenolic content, Alkaloid content, Antioxidant activity
Abstract
Introduction: Anti-oxidants are vital substances which possess the ability to protect the body from damage caused by free radical induced oxidative stress. There is an increasing interest in natural anti-oxidants, e.g., polyphenols, present in medicinal and dietary plants, which might help prevent oxidative damage. Methods: In this present study we investigated preliminary phytochemical, total phenolic, alkaloid content and In-vitro antioxidant activity of hexane, ethyl acetate, ethanol (70%) and methanol extracts of Thespesia populnea Seeds. Results: Thespesia populnea Seeds revealed the presence of steroids, flavonoids and alkaloids, glycosides, tannins, quinones and carbohydrates. The extracts do not contain the amino acids, oils and the hexane fraction do not contain triterpenes and tannins. The ethyl acetate extract have more phenolic content than other extracts and the methanolic extract has more alkaloidal than other extracts. The selected plant extracts were produced concentration dependent percentage inhibition of superoxide radical and produced maximum activity at a concentration of 160 μg and there after the percentage inhibition were raised gradually to its maximum level with higher concentrations. Conclusion: Among the four types of T.populnea seeds extracts, the methanolic extract showed better activity than aqueous extracts at 160 μg concentrations.
Downloads
Download data is not yet available.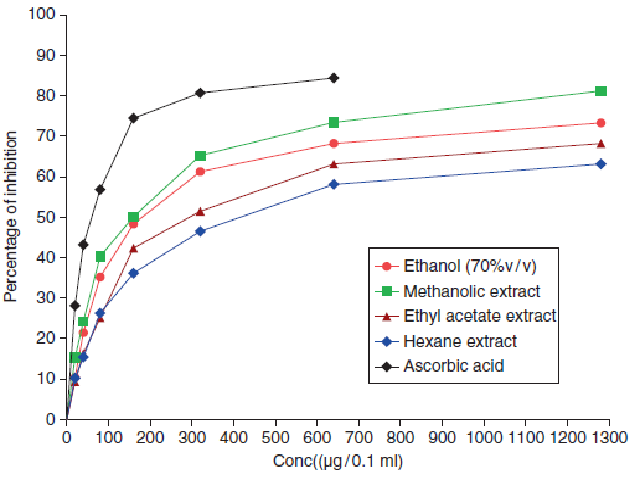 Downloads
How to Cite
Rao.B, G. ., Rao. P, U., Rao E, S. ., Rao T, M. ., & Praneeth D, V. (2020). Studies on Phytochemical Constituents, Quantification of Total Phenolic, Alkaloid Content and In-vitro Anti-oxidant Activity of Thespesia populnea Seeds. Free Radicals and Antioxidants, 1(4), 56–61. https://doi.org/10.5530/ax.2011.4.9