Antioxidant activity profiling by spectrophotometric methods of phenolic extract of Prasium majus L
Keywords:
Prasium majus , Quantification of phenolic classes , Antioxidant activity
Abstract
Introduction: Phytochemicals are extensively found at different levels in many medicinal plants. To investigate the phenolic compound content and in vitro antioxidant activity of phenolic extract from Prasium majus L (Lamiaceae). Methods: The present investigation comprises, estimation of total polyphenol, flavonoid, tannin, in vitro antioxidant assays such as total antioxidant capacity, DPPH, ABTS, b-carotene and ferric reducing power. Results: P. majus exhibited 64.25 mg GAE g-1 extract of polyphenol phenol content, and better scavenging activity of DPPH (IC50 = 7.95 mg mL-1), ABTS.+ (IC50 = 373.78 mg mL-1), and b-carotene (IC50 = 122.56 mg mL-1). Conclusion: Our results clearly demonstrated that phenolic extract P. majus has antioxidant capacity. Therefore is a valuable source of natural antioxidants.
Downloads
Download data is not yet available.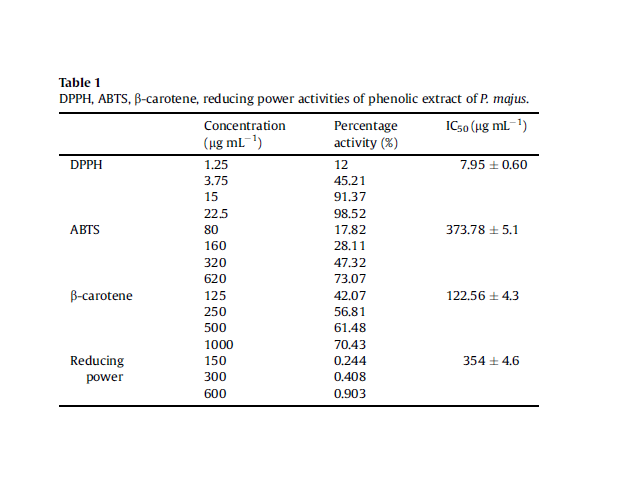 Downloads
How to Cite
Tarik Md. Chaouche, Farah Haddouchi, Riadh Ksouri, Faten Medini, Imad A. El-Haci, Zahia Boucherit, Fatima Zohra Sekkal, & Fawzia Atik-Bekara. (2013). Antioxidant activity profiling by spectrophotometric methods of phenolic extract of Prasium majus L. Free Radicals and Antioxidants, 3(1), 43–46. Retrieved from https://antiox.org/index.php/fra/article/view/231
Section
Short Communication