Antioxidant potential and total phenolic contents of seabuckthorn (Hippophae rhamnoides) pomace
Keywords:
Antioxidant activity, In Vitro radicals, Pomace, Phenolic contents, Seabuckthorn
Abstract
Introduction: Seabuckthorn (Hippophae rhamnoides L., Elaeagnaceae) is an important medicinal resource found in abundance in Indian subcontinent especially the North Western Himalayan regions and all parts of the plant are rich in bioactive substances. Methods: The antioxidative activity of three different extracts (100% Methanolic, 70% Methanolic, 100% Aqueous) of pomace were evaluated by various in vitro methods such as ABTS, DPPH, nitric oxide, reducing power, superoxide and hydroxyl radical. Total phenolic contents were determined spectrophometrically. Results: The 100% methanolic extract showed higher recovery (11%) and total phenolic contents (302.72 ± 4.17 mg of GAE/gm of extract), as compared to the other extracts. All the extracts were able to scavenge different in vitro radicals i.e. ABTS, DPPH, superoxide, hydroxyl and nitric oxide radicals, in a concentration dependent manner. The IC50 values, determined by using linear regression analysis, revealed that 100% methanolic extract was better scavenger of ABTS, DPPH and hydroxyl radicals. However, 70% methanolic extract was better scavenger of superoxide and nitric oxide radicals. The reducing power of the extracts was also found in a dose dependent manner and was higher in methanolic extracts (100% and 70%). Conclusion: On the basis of present study, it could be concluded that pomace of seabuckthorn has pronounced antioxidant properties and can be incorporated in the feed as a nutraceutical after conducting safety and toxicological studies.
Downloads
Download data is not yet available.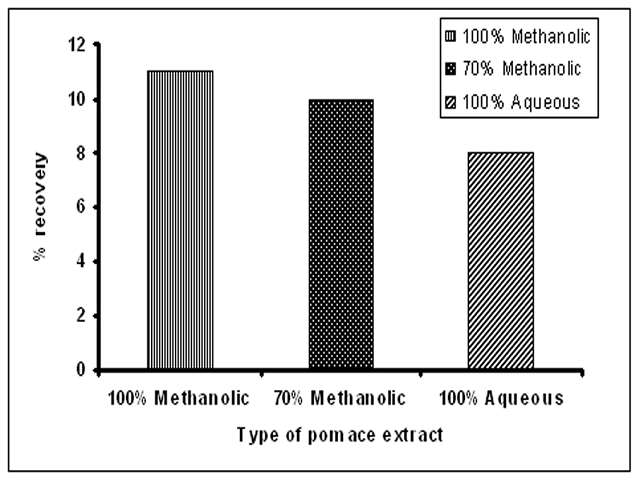 Downloads
CITATION
DOI: 10.5530/ax.2012.4.14
How to Cite
Vinay Kant, Madhuri Mehta, & Chandresh Varshneya. (2012). Antioxidant potential and total phenolic contents of seabuckthorn (Hippophae rhamnoides) pomace. Free Radicals and Antioxidants, 2(4), 79–86. https://doi.org/10.5530/ax.2012.4.14