In vitro Antioxidant and RBC membrane Stabilization Activity of Euphorbia wallichii
Keywords:
In vitro antioxidant, Correlation, Lipid peroxidation, DNA damage, HRBC membrane stabilization
Abstract
Background: Euphorbia wallichii belongs to family Euphorbiaceae is used to treat various diseases on folklore levels in Kashmir valley. Objective of the study is to explore antioxidant potential and anti-inflammatory activities of Euphorbia wallichii. Materials and Methods: Antioxidant potential of extracts was evaluated by means of total phenolics, DPPH, reducing power, microsomal LPO, and hydroxyl radical scavenging activity by using standard procedures. Anti-inflammatory activity was assessed using hypotonic solution induced human erythrocyte haemolysis. Results: The highest phenolic content of 465 mg GAE/g was observed in methanol extract followed by ethyl acetate (359 mg GAE/g) and aqueous extract (291 mg GAE/g). At concentration of 700 μg/mL, DPPH radical scavenging activity of methanol extract was (94.85%) IC50 (160 μg/ml), ethyl acetate (92.68%) IC50 (200 μg/ml) and aqueous (90%) IC50 (250 μg/ml). The reducing power of the extracts increased in a concentration dependent manner. At concentration of 70 μg/mL, 92.72, 80.74 and 75.75% inhibition was observed with methanol, ethyl acetate and aqueous extract on microsomal LPO with IC50 values 31.5, 34.5 and 42 gμ/ml. Superoxide radical scavenging activity of Euphorbia wallichii extracts increased in a dose dependent manner with IC50 values 36.05 μg/ml (methanol), 45 μg/ml (ethyl acetate) and 34.5 μg/ml (aqueous extract). Euphorbia wallichii extracts exhibited antioxidant effects on Calf thymus DNA damage. At the higher concentration of plant extracts (12 μg/ml), 90, 86 and 78% increase in RBC membrane stabilization was observed with methanol, ethyl acetate and aqueous extracts of Euphorbia wallichii. Conclusion: These results clearly indicate that Euphorbia wallichii extracts possesses the free radical savaging activity as such can be employed as potential antioxidant and anti-inflammatory agent against various oxidative stress related pathological conditions.
Downloads
Download data is not yet available.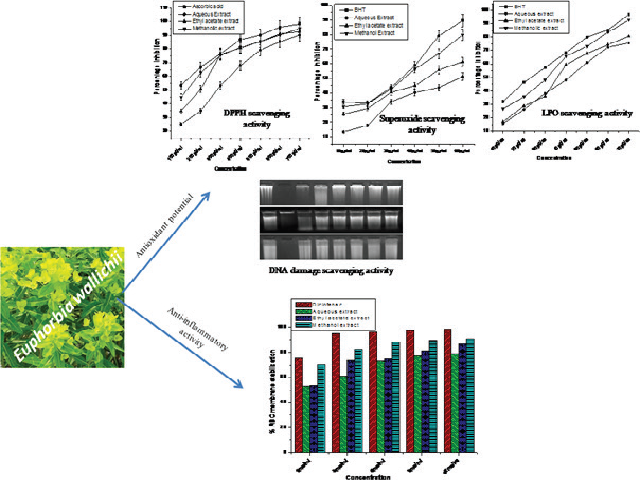 Downloads
CITATION
DOI: 10.5530/fra.2017.1.3
How to Cite
Tantary, S. ., Masood, A. ., Hussain Bhat, A. ., Bashir Dar, K. ., Afzal Zargar, M. ., & Ahmad Ganie, S. . (2016). In vitro Antioxidant and RBC membrane Stabilization Activity of Euphorbia wallichii. Free Radicals and Antioxidants, 7(1), 13–22. https://doi.org/10.5530/fra.2017.1.3