Antioxidant and Antimicrobial Activities of Callistemon comboynensis Essential Oil
Keywords:
C. comboynensis, Essential oil, Cineole, Antioxidant, Antimicrobial activity
Abstract
Introduction: The genus Callistemon is known in folk medicine for its anticough, antibronchitis, and insecticidal effects and its volatile oils have been used as antimicrobial and antifungal agents. Methods: The essential oils obtained by hydrodistillation of the leaves of Callistemon comboynensis (Cc) was investigated by GC/MS. Antioxidant activity of Cc was investigated using 1,1-diphenyl-2-picrylhydrazyl (DPPH). The antimicrobial activity of the essential oil of Cc was evaluated against both gram positive (Bacillus subtilis and Staphylococcus aureus), gram negative (Proteus vulgaris, Pseudomonas aeruginosa) and a pathogenic fungus Candida albicans. Results: It was found that Cc afford 0.22% volatile oil. The major components of the volatile oil of Cc are 1, 8-cineol (53.03%), eugenol (12.1%), methyl eugenol (9.2%) and α-pinene (8.3%). The oil had pronounced antibacterial and antifungal activities on all the tested microbes. Nevertheless, Cc leaf oil extract exhibited high antioxidant activity (91.1 ± 0.3 %) at a concentration of 1000 μg.ml-1, comparable to 100 μg.ml-1 gallic acid (95.7 ± 2).
Downloads
Download data is not yet available.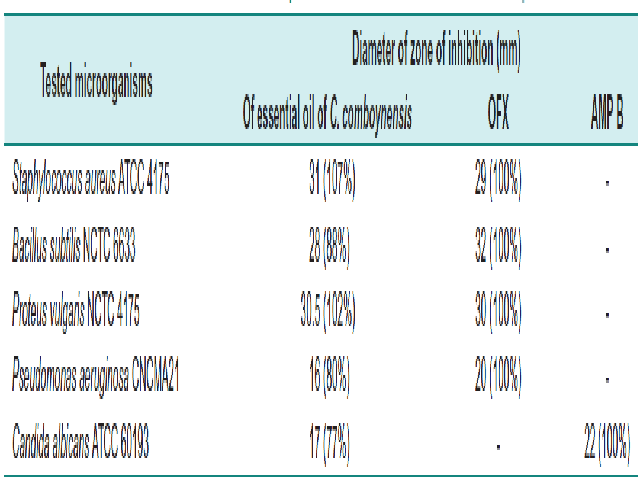 Downloads
How to Cite
I. Abdelhady, M. ., & A. H. Aly, H. . (2020). Antioxidant and Antimicrobial Activities of Callistemon comboynensis Essential Oil. Free Radicals and Antioxidants, 2(1), 37–41. https://doi.org/10.5530/ax.2012.2.8