Comparative Research on Anti-Inflammatory Effects of Different Dietary Antioxidants on Alcohol-Induced Damage in Gastric Cells
Keywords:
Dietary antioxidants, Gastric inflammation, Ethanol, ROS, AGS
Abstract
Objective: Antioxidants prevent ill-effects of free radicals through regulation of different proand anti-inflammatory enzymes of the cell which have association with the pathophysiology of alcohol-induced gastropathy. This study was aimed to explore the mechanism in gastric adenocarcinoma (AGS) cell line and protection by dietary antioxidants e.g. catechin, resveratrol, quercetin, curcumin and 6-gingerol. Methods: AGS cells were exposed to 2.5% ethanol for varied time span in presence and absence of antioxidants. Cytotoxicity was assessed by MTT assay and annexin V-propidium iodide staining. The damages in cellular morphology were observed by DAPI and EtBr-acridine orange staining. Changes in ROS generation were examined through confocal microscopy. Western blots were performed using cell extracts to investigate the changes in expression level of COX-1, -2, catalase, superoxide dismutase (SOD), iNOS, MMP-9 and TIMP-1. Immunofluorescence study was done to cross check the expression of COX-2. Results: A concentration-dependent cytotoxicity was observed in the cell viability on ethanol exposure which was reduced by antioxidant treatment. Antioxidants reduced the inflammation by downregulating the expression of COX-2, iNOS and MMP-9 and by upregulating the expressions of catalase, SOD and TIMP-1 significantly. Catechin and quercetin demonstrated most prominent cytoprotection amongst the five, followed by resveratrol. These results were corroborated with MTT assay, DAPI and EtBr-acridine orange staining. Curcumin and 6-gingerol did not show any significant effect. Conclusion: Dietary antioxidants protect AGS cells from oxidative stress by maintaining the homeostasis between oxidant-antioxidant and protease-antiprotease ratio.
Downloads
Download data is not yet available.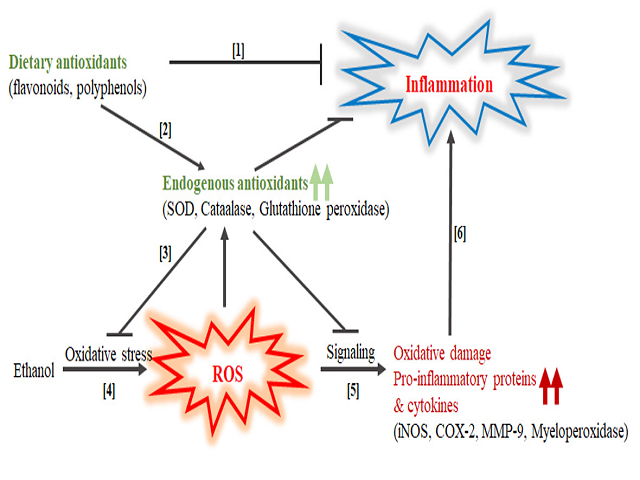 Downloads
CITATION
DOI: 10.5530/fra.2019.1.4
How to Cite
Roy, A., Ghosh, S., & Chakraborty, R. (2019). Comparative Research on Anti-Inflammatory Effects of Different Dietary Antioxidants on Alcohol-Induced Damage in Gastric Cells. Free Radicals and Antioxidants, 9(1), 16–21. https://doi.org/10.5530/fra.2019.1.4