Potential Antioxidant and Antibacterial Properties of Medicinal Plant Trachyspermum ammi L. Seeds
Keywords:
Trachyspermum ammi L, Antioxidants, Free radicals, Antibacterial, Medicinal plants
Abstract
Background: A highly valued medicinal plant belonging to the family Apiaceae is Trachyspermum ammi L. The seeds of this plant are used as spice and are traditionally used for the treatment of many human and animal illnesses. Objectives: In this research study, we aimed at quantitatively estimating the phytochemicals, antioxidant and antimicrobial activity of different solvent extracts of T. ammi seeds. Methods: Quantification of phenol and flavonoid phytochemicals have been estimated in different solvent extracts of seeds. Further, the antioxidant activity was determined by performing DPPH, lipid peroxidation, reducing capacity and total antioxidant activity assays. Additionally, antibacterial activity was assessed against three bacterial species using well-diffusion method. Results: The findings showed in quantitative estimation that phenols and flavonoids were rich in extracts. Acetone, Methanol and Ethanol extracts were potentially scavenged DPPH radical, lipid peroxidation nullified and metal ions such as Fe and Mo reduced. At the same time, effective antibacterial activity on E. coli, S. aureus and Pseudomonas bacterial species was seen in Chloroform and Methanol extracts and synthesized silver nanoparticles. Conclusion: In conclusion, free radical scavenging, reduction of metals and antibacterial activity of different extracts of T. ammi was indicative of the presence of enormous amounts of phenols and flavonoids. Further work on these extracts needs to be done to isolate the active compounds and, to treat free radicals and related bacterial diseases.
Downloads
Download data is not yet available.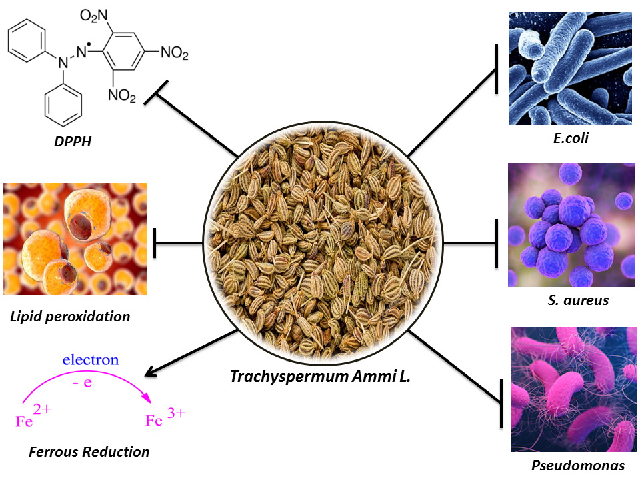 Downloads
CITATION
DOI: 10.5530/fra.2020.2.11
How to Cite
Sahukari, R., Punabaka, J. ., Kumar Yamala, P. ., Bhasha, S., Subbaiah Ganjikunta, V. ., & Reddy Kesireddy, S. . (2021). Potential Antioxidant and Antibacterial Properties of Medicinal Plant Trachyspermum ammi L. Seeds. Free Radicals and Antioxidants, 10(2), 56–62. https://doi.org/10.5530/fra.2020.2.11