Aqueous Fraction of Ocimum gratissimum (L) Leaf Extract Protects Sperm Membrane Integrity in Plumbagin-induced Testicular Damage in Rats
Keywords:
Plumbagin, Sterility, Antioxidants, Ocimum gratissimum, Membrane integrity
Abstract
Background: Infertility in male has been associated with oxidative stress which cause membrane damage. The presence of a wide array of secondary metabolites with enormous antioxidant potentials have resulted in the increased medicinal value placed on plants for treatment of various ailments. Ocimum gratissimum is a widely consumed herb well known for its nutritional and medicinal significance. Nevertheless, there is scarcity of information on the impact of Ocimum gratissimum on plumbagin-stimulated male reproductive dysfunction. Therefore this study was designed to determine the effect of aqueous fraction of Ocimum gratissimum (AFOG) leaf extract on sperm plasma membrane integrity and antioxidant status in plumbagin-induced infertility in male wistar rats. Methods: Twenty animals were divided into four equal groups: normal control, 8mg/kg plumbagin, groups administered Plumbagin and treated with 100mg/kg and 400mg/kg AFOG leaf by gavaging for 14 days. Results: The AFOG (100mg/kg and 400mg/kg) significantly (P<0.05) prevented plumbagin-mediated increase in lipid peroxidation but increased antioxidant parameters [such as glutathione reduced (GSH) levels and the activities of antioxidant enzymes (SOD and CAT)] in a dose-dependent manner. Furthermore, AFOG significantly reversed decrease in testosterone and estradiol levels in plumbagin-induced sterility in male rats and this was corroborated by a significant improvement in sperm features and testes histo-architectures of the co-treated animals. Conclusion: It could therefore be inferred from the above data that Ocimum gratissimum exhibited its cytoprotective role in male reproductive dysfunction via prevention of oxidative stress and maintenance of membrane stability.
Downloads
Download data is not yet available.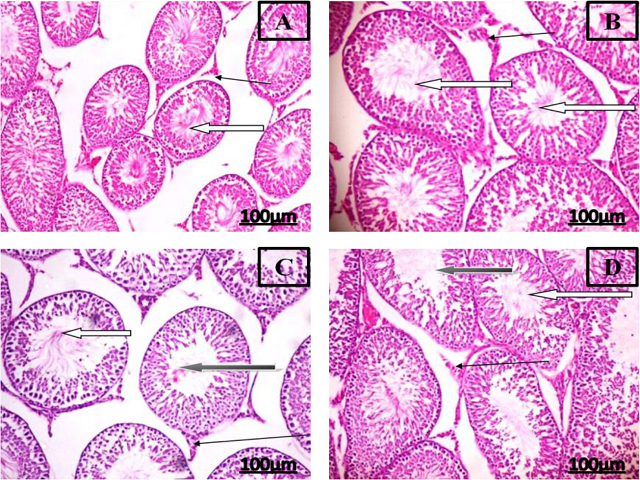 Downloads
CITATION
DOI: 10.5530/fra.2021.2.12
How to Cite
Salemcity, A. J., Agbaje, T. S., Effiong, M. E., & Asuelimen, S. O. (2021). Aqueous Fraction of Ocimum gratissimum (L) Leaf Extract Protects Sperm Membrane Integrity in Plumbagin-induced Testicular Damage in Rats. Free Radicals and Antioxidants, 11(2), 52–57. https://doi.org/10.5530/fra.2021.2.12