Analysis of Brazilian Plant Extracts as Potential Source of Antioxidant Natural Products Using Bench-Top Assays
Keywords:
Amazon Rain Forest, Biodiversity, Plant extracts, Thin layer chromatography, Phytochemistry, Radical scavenge
Abstract
Introduction: The present work reported the antioxidant and chemical screening of Brazilian plant aqueous and organic extracts. Methods: An amount of 895 Brazilian Amazon aqueous and organic plant extracts were tested in thin layer chromatography plates (TLC) using 2, 2-diphenyl-1-picrylhydrazyl (DPPH), β-carotene, Dragendorff's reagent, Kedde's reagent, and KOH reagent so as to evaluate antioxidant activity and chemical profiles. Antioxidant and DPPH free radical scavenging activities results were submitted to chi-square analyses. Results: Only 8.60% of the extracts showed β-carotene/bleaching response, while 96.09% of the extracts responded as a radical scavenger, alkaloids occurred in 8.0% of the extracts whereas anthraquinones occurred in 0.89% of the extracts and cardenolides in 3.89% of the extracts. Conclusion: Present findings described that Amazon plant extracts have a huge potential to be a source of antioxidant compounds to be used in preventive medicine, as well as the chemical screening revealed that their plants can be strategically assessed as a source of alkaloids to be tested in further biological assays.
Downloads
Download data is not yet available.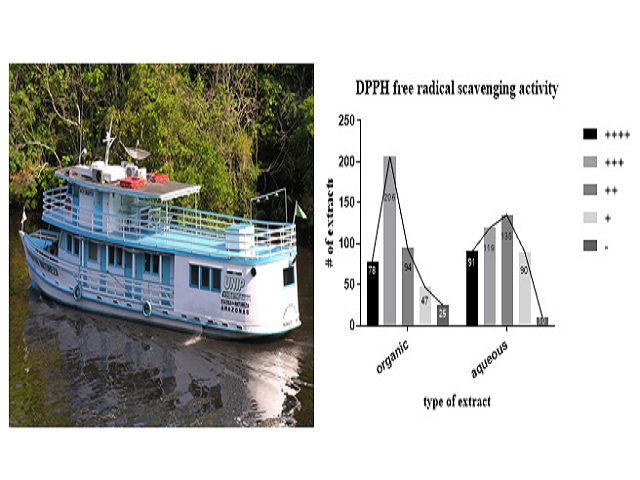 Downloads
CITATION
DOI: 10.5530/fra.2018.2.18
How to Cite
Marin, L. C., Cavarsan, E. C., Díaz, I. E., Paciencia, M. L., Frana, S. A., & Suffredini, I. B. (2018). Analysis of Brazilian Plant Extracts as Potential Source of Antioxidant Natural Products Using Bench-Top Assays. Free Radicals and Antioxidants, 8(2), 120–129. https://doi.org/10.5530/fra.2018.2.18