Antioxidant Activity and Free Radical-scavenging Potential of Pithecellobium Dulce Benth Seed Extracts
Keywords:
Antioxidant activity, Pithecellobium dulce, Free radicals, Reducing power
Abstract
Introduction: Oxidative stress resulted from free radicals and reactive oxygen species are associated with many diseases. Several studies are going on worldwide directed towards finding natural antioxidants of plant origin. Plants containing phenolic compounds have been reported to possess strong antioxidant activity. The aim of the present study was to screen phytochemical constituents and in vitro antioxidant activity of Pithecellobium dulce Benth. aqueous and methanolic seed extracts. Methods and Materials: The aqueous (AEPD) and methanolic extract (MEPD) of Pithecellobium dulce seeds were studied for antioxidant potential by using different in vitro assays such as inhibition of DPPH, nitric oxide, hydroxyl, superoxide anions and lipid peroxidation. The total phenolic contents and reducing power of the extracts were also determined by using standard phytochemical reaction methods. Butylated hydroxyl toluene (BHT), ascorbic acid and mannitol were taken as standards. Results: The aqueous and methanolic extract of P. dulce seeds showed good dose dependant free radical scavenging activity in all the models. The total phenolic content of the aqueous and methanolic extract was found to be 1.31 ± 0.006 and 1.74 ± 0.003 mg gallic acid equivalents/g of extract powder respectively. Reducing power was also found to increase with increase in extracts concentrations. Conclusion: All the results of the in vitro antioxidant assays revealed antioxidant and free radical scavenging potential of P. dulce seeds, compared with standard antioxidants. This antioxidant activity may be endorsed to its high phenolic contents. Thus, our findings provide evidence that P. dulce is a potential source of natural antioxidants.
Downloads
Download data is not yet available.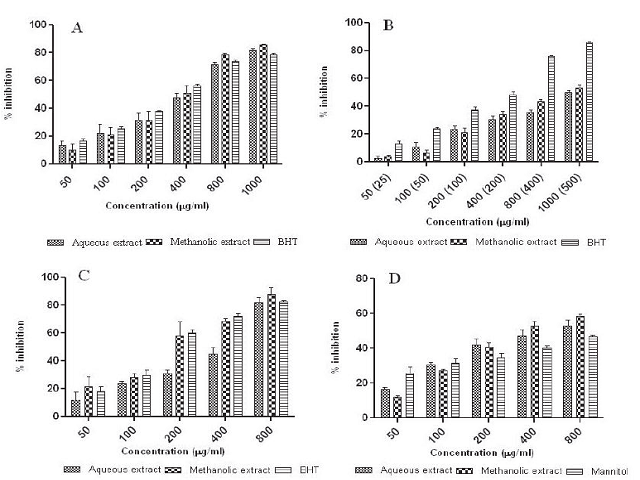 Downloads
CITATION
DOI: 10.5530/ax.2012.2.2.7
How to Cite
M Nagmoti, D. ., K Khatri, D. ., R Juvekar, P. ., & R. Juvekar, A. . (2012). Antioxidant Activity and Free Radical-scavenging Potential of Pithecellobium Dulce Benth Seed Extracts. Free Radicals and Antioxidants, 2(2), 37–43. https://doi.org/10.5530/ax.2012.2.2.7