Effect of Cypermethrin Induced Antioxidant Enzymes Systems in Response to Melatonin Administration in Drosophila Melanogaster
Keywords:
Melatonin, Antioxidant enzymes, Fruit fly, Free radical scavenging, Chronobiology, Detoxification Enzymes
Abstract
Introduction: Melatonin, the main hormonal product of the pineal gland, has pleiotropic bioactivity that encompasses numerous endocrinological and behavioral processes. Melatonin and several of its metabolites function as free radical scavengers and broad-spectrum antioxidants. Due to their small size and amphiphilic nature they can easily reach all cellular compartments. The aim of the present study was to investigate the effect of melatonin on cypermethrin induced free radical damage in Drosophila melanogaster. Methods: The pro-or antioxidant enzyme activities of superoxide dismutase (SOD), glutathione–S-transferase (GST), lipid peroxidation (LPO), peroxidase (POX), catalase (CAT) and cytochrome P450 were assayed. Results: SOD and cytochrome P450 enzymes show significant increase in the melatonin+synthetic pyrethroid treated group, while GST shows significantly decreased activity in melatonin+synthetic pyrethroid group with respect to control. Lipid peroxidation activity was significantly increased in the synthetic pyrethroid group and also in melatonin+synthetic pyrethroid treated groups. Conclusion: In conclusion, melatonin administered the resulted in activation/increased expression of Cyt P450, GST and SOD titers, showing that melatonin in addition to being an antioxidant molecules, it also participates in eliciting other antioxidant systems in insects.
Downloads
Download data is not yet available.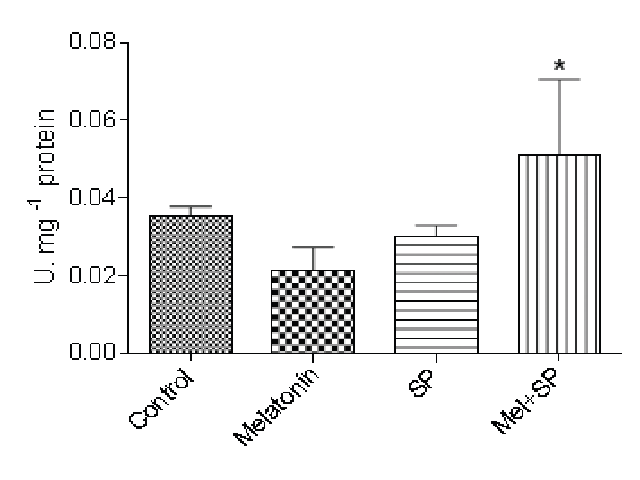 Downloads
CITATION
DOI: 10.5530/fra.2016.2.6
How to Cite
Vasuki, S. ., & Subramanian Shivakumar, M. . (2016). Effect of Cypermethrin Induced Antioxidant Enzymes Systems in Response to Melatonin Administration in Drosophila Melanogaster. Free Radicals and Antioxidants, 6(2), 167–172. https://doi.org/10.5530/fra.2016.2.6