Nrf2-Keap1 Activation, A Promising Strategy in the Prevention of Cancer
Keywords:
Antioxidant response element (ARE), Cancer, Nrf2, Keap1, Oxidative stress
Abstract
Oxidative stress has been implicated in many human diseases such as aging, neurodegenerative disorders and many in cancer. Nrf2 (a master transcription factor that regulates antioxidant response element (ARE) mediated expression of antioxidant enzymes and cyto protective proteins) plays an important role in the response to intrinsic oxidative stress. Excess reactive oxygen species (ROS) causes oxidative damage to cellular DNA, and other bio molecules such as lipids and proteins; genetic changes and/ or epigenetic alterations can lead to the deregulation of oncogenes and tumour suppressor genes, ultimately contributing to carcinogenesis. To alleviate this oxidative stress, there are several anti oxidative stress response, most of which are regulated by Nrf2. Keap1 (a regulator of Nrf2 activity) is a cyto plasmic, cysteine-rich, actin-bound protein that chelate NRF2 in the cytoplasm for degradation. Upon contact with ROS, NRF2 is stabilized and translocate into the nucleus and activate the transcription of many cyto protective genes encoding detoxification and antioxidant protein and exerts a protective function against xenobiotics and oxidative stresses. Increasing attention has been paid to the role of Nrf2 in cancer cells because the constitutive stabilization of Nrf2 has been observed in many human cancers with poor prognosis. Better understanding of the molecular mechanism underlying Nrf2 function in response to ROS and electro philes will provide bases for the development of a new strategy aimed at preventing oxidative stress as well as attenuating oxidative-induced cyto toxicity associated with carcinogenesis. Recent advances are highlighted in the understanding of Nrf2-Keap1 gene, transcriptional regulation, complex binding and function and Nrf2-keap1 transcription regulation pathway as a promising prevention of cancer.
Downloads
Download data is not yet available.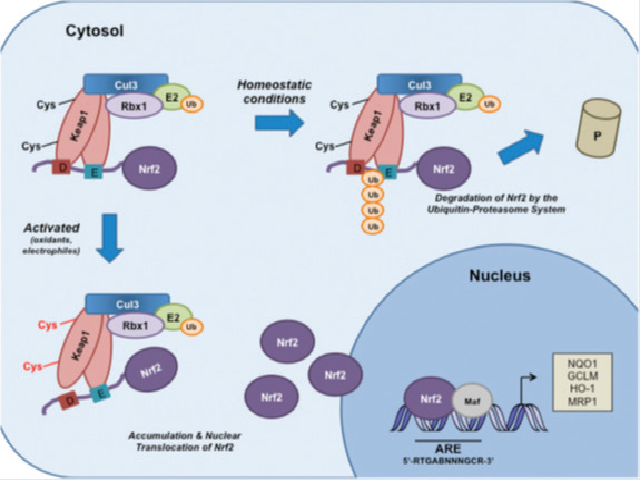 Downloads
CITATION
DOI: 10.5530/fra.2017.1.1
How to Cite
Adeleke Ojo, O., Ajiboye, B., Fadaka, A. ., Taro, P. ., & Ali Shariati, M. . (2016). Nrf2-Keap1 Activation, A Promising Strategy in the Prevention of Cancer. Free Radicals and Antioxidants, 7(1), 1–7. https://doi.org/10.5530/fra.2017.1.1