Evaluation of antioxidant capacity and acetylcholinesterase inhibitory activity of field-grown plants and in vitro plantlets of Enicostemma littorale
Keywords:
Acetylcholinesterase inhibition, Antioxidant, Enicostemma littorale, Secoiridoids
Abstract
Background: Enicostemma littorale is an ethno-medicinally important plant belonging to Gentianaceae family. Objective: The main aim of this study was to establish tissue culture of E. littorale and compare the antioxidant capacities and acetylcholinesterase inhibitory (AChEi) properties of in vitro and field-grown E. littorale plants. Materials and Methods: Antioxidant capacities for various E. littorale extracts were studied in terms of 1,1-diphenyl-2- picrylhydrazyl and 2,2′-azinobis-3 ethylbenzothiazoline-6-sulfonic acid free-radical scavenging along with ferric reducing antioxidant power and total phenolic content was also determined. AChEi properties were also compared between fieldgrown and in vitro E. littorale extracts. Results: In vitro plantlets of E. littorale was established in Murashige and Skoog (MS) medium with three different hormonal combinations, viz. naphthalene acetic acid (1 mg/l) and 6-benzylaminopurine (BAP)(0.2 mg/l) or N1B0.2, BAP (1 mg/l) and kinetin (0.1 mg/l) or B1K0.1 and indole butyric acid (IBA) (1 mg/l) or IBA1. Alcoholic extracts of shoots developed in MS medium supplemented with B1K0.1 showed highest antioxidant potential than other extracts. Alcoholic extracts of plantlets grown in MS medium supplemented with IBA1 showed both antioxidant and AChEi potential equivalently to field-grown extracts. Conclusion: In vitro plantlets grown in MS medium half strength supplemented with IBA1 can be considered as most suitable for rapid proliferation because it offers advantage of equivalent potential of bioactivity in terms of antioxidant capacity and AChEi when compared to field-grown plants. Further studies can lead to better utilization of therapeutic potential of E. littorale.
Downloads
Download data is not yet available.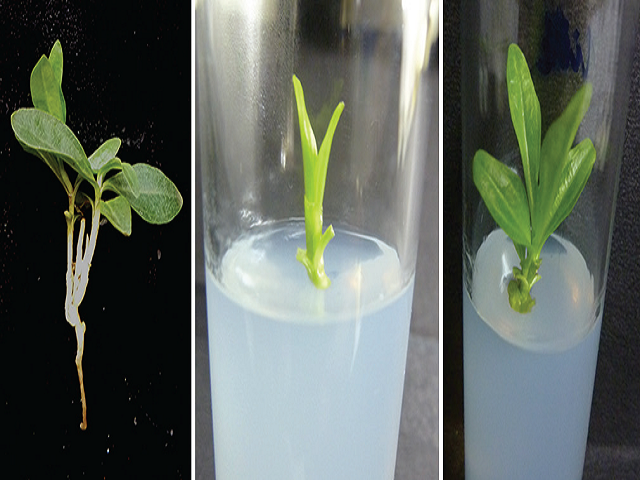 Downloads
CITATION
DOI: 10.5530/fra.2014.2.5
How to Cite
Nithya N. Kutty, Nitin K. Gaikwad, Utkarsh R. Moon, Mahesh Kumar, Sanjay R. Kshirsagar, & Adinpunya Mitra. (2020). Evaluation of antioxidant capacity and acetylcholinesterase inhibitory activity of field-grown plants and in vitro plantlets of Enicostemma littorale. Free Radicals and Antioxidants, 4(2), 21–26. https://doi.org/10.5530/fra.2014.2.5