Involvement of Calcium ion in Enhancement of Antioxidant and Antidiabetic Potential of Fenugreek Sprouts
Keywords:
Antioxidant, Antidiabetic, Calcium ion, Germination, Phenolics
Abstract
Introduction: Calcium ion (Ca2+) is considered as a key signal transducer in plants which is involved in various physiological processes. The aim of the present study was to evaluate the influence of Ca2+ in enhancement of antioxidant as well as anti-diabetic activity of the fenugreek seedlings during developmental phase. Methods: The fenugreek seeds primed with Calcium chloride (CaCl2), Calcium chelator EGTA [Ethylene glycol-bis(2-aminoethylether)-N,N,N´, N, tetra acetic acid] and calcium channel blocker LaCl3 (lanthanum chloride) and germinated for 3 days. The sprout extracts were investigated for their antioxidant potential by DPPH, ABTS+, metal chelating, reducing power, nitric oxide scavenging capacity and anti-lipid peroxidation as well beta-carotene bleaching assays along with in vitro antidiabetic activity by α-amylase and α-glucosidase inhibition. Along with this, phytochemicals such as phenol, flavonol and carotene were also estimated. Results: The results demonstrated that the seeds treated with calcium chloride showed enhanced antioxidant as well as antidiabetic potential over control; on the other hand the action was reversed by EGTA and LaCl3. Similar trend was observed in the phytochemical contents of the sprouts. Conclusion: Our data suggested that the improvement in nutraceutical value of fenugreek sprouts by calcium chloride could be due to the involvement of Ca2+ in signaling pathways associated with related phenolic compounds.
Downloads
Download data is not yet available.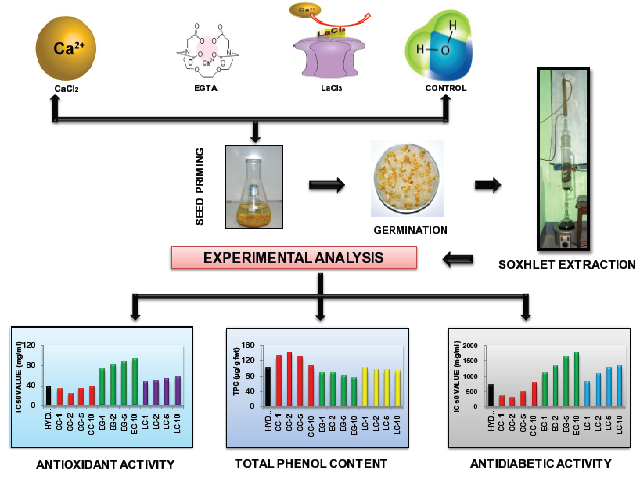 Downloads
CITATION
DOI: 10.5530/fra.2015.2.5
How to Cite
Kumar Gupta, S. ., & Mandal, P. . (2015). Involvement of Calcium ion in Enhancement of Antioxidant and Antidiabetic Potential of Fenugreek Sprouts. Free Radicals and Antioxidants, 5(2), 74–82. https://doi.org/10.5530/fra.2015.2.5