Antioxidative Response in a Silkworm, Bombyx mori larvae to Dichlorvos Insecticide
Keywords:
Antioxidative biomarkers, GPx, GST, Insecticide toxicity, Organophosphate, Reactive oxygen species
Abstract
Introduction: Antioxidant defense components protect insects by scavenging reactive oxygen species, leading to oxidative stress. We therefore investigated the effect of an organophosphate insecticide, dichlorvos, on superoxide dismutase (SOD), glutathione peroxidase (GPx), catalase (CAT), glutathione S-transferase (GST) and glutathione reductase (GR) as antioxidative biomarkers in silk worm, Bombyx mori (L.), larvae. Methods: The newly hatched larvae were reared on mulberry leaves containing 0.01. 0.1, 1 and 5ppm dichlorvos. Results: The leaf diet with lowest concentration of dichlorvos did not significantly influence the activity of antioxidative biomarkers. Dichlorvos at 0.1 and 1ppm significantly resulted in increased SOD, GPx and GST activity, CAT and GR activity were decreased. Highest concentration of dichlorvos 5ppm significantly decreased SOD and CAT activity compared to control group, whereas GPx and GR activity were significantly increased than the control groups. Conclusion: Over all the date suggest that increased activity of SOD, GPx and GST could be involved in free radicals scavenging in B.mori larvae leading to oxidative stress by dichlorvos insecticide.
Downloads
Download data is not yet available.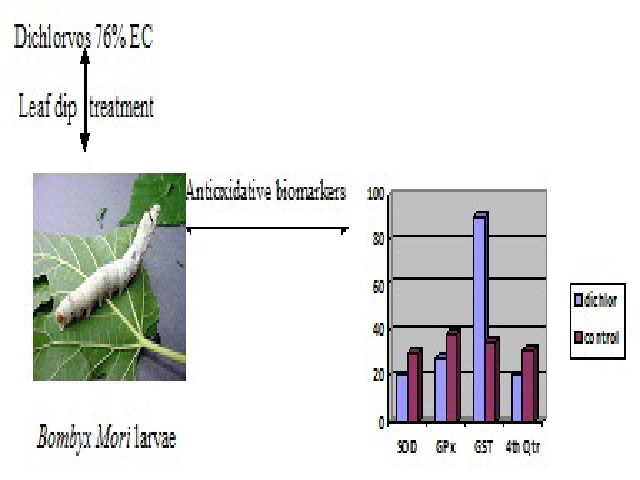 Downloads
CITATION
DOI: 10.5530/fra.2016.1.7
How to Cite
Muthusamy, R. ., & Rajakumar, S. (2015). Antioxidative Response in a Silkworm, Bombyx mori larvae to Dichlorvos Insecticide. Free Radicals and Antioxidants, 6(1), 58–63. https://doi.org/10.5530/fra.2016.1.7