Comparative Study of Phytochemicals, Antioxidative Potential and Activity of Enzymatic Antioxidants of Eclipta alba and Plumbago zeylanica by in vitro Assays
Keywords:
Antioxidant activity, Eclipta alba, Enzymatic contents, Phytochemical screening, Plumbago zeylanica
Abstract
Background: The Plumbago zeylanica (family: Plumbaginaceae) is a widely accepted ethnomedicine around the world including India, Pakistan, Bangladesh, Sri Lanka, and Australia. Early in vitro researches of Plumbago zeylanica were focused on antioxidant activity in root only a few were concerned with stem. Similarly in Eclipta alba antioxidant activity of whole plant is explored. Objective: The present study highlights the comparative antioxidant potential and enzymatic contents of both plants along with recent updates on phytochemical contents. Materials and Methods: The antioxidant potential of the plants was established by DPPH free radical scavenging assay, Nitric oxide (NO) free radical scavenging activity, Hydrogen peroxide (H2O2) scavenging activity, Catalase activity along with determination of Total Phenolic Contents in the plant extracts. Results: The results revealed that Eclipta alba has notable activity than Plumbago zeylanica in quenching of DPPH while Plumbago zeylanica shows comparatively better activity in nitric oxide scavenging, super oxide scavenging and Catalase activity. The Eclipta at 10 μg/ml showed maximum scavenging of DPPH (16.60 %), nitric oxide (66.21%), super oxide (4.76%) and Catalase activity 31.9 at 1 mg/g fresh weight against the Plumbago zeylanica which showed maximum scavenging of DPPH 13.24%, Polyherbal extract 11.78%, nitricoxide (69.45%), super oxide (5.12%) and catalase activity 23.7 at 1 mg/g fresh weight respectively at the same concentration. The phytochemical screening of the extract revealed the presence of considerable amount of alkaloids, saponins, tannins, phenolic compounds and glycosides which might be responsible for the antioxidative potential of the selected plants. Conclusion: The results of this study strongly indicate that the Plumbago zeylanica has comparatively more potent antioxidant potential than Eclipta alba. Moreover, the study reveals that polyherbal extract for the very first time for this combination have shown a strong antioxidant activity which is directly correlated with suppression of free radical induced diseases i.e. cancer. These findings encourage studying these plants and their polyherbal extracts further as a potential agents against cancer.
Downloads
Download data is not yet available.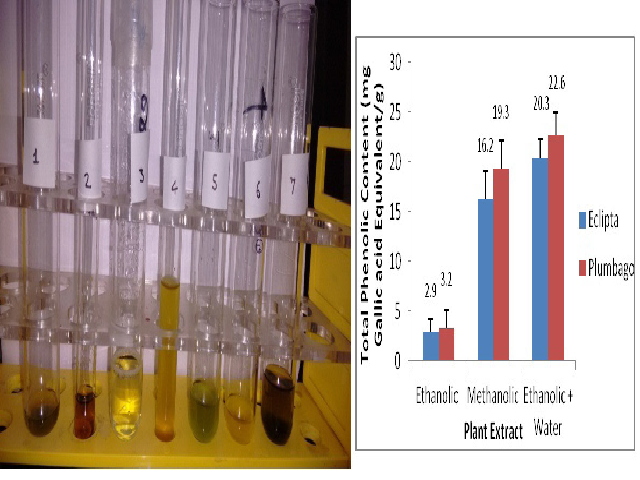 Downloads
CITATION
DOI: 10.5530/fra.2016.2.2
How to Cite
Saxena, A. ., Gautam, S. ., Ram Arya, K. ., & Kant Singh, R. . (2016). Comparative Study of Phytochemicals, Antioxidative Potential and Activity of Enzymatic Antioxidants of Eclipta alba and Plumbago zeylanica by in vitro Assays. Free Radicals and Antioxidants, 6(2), 139–144. https://doi.org/10.5530/fra.2016.2.2