Antioxidant and Anti-inflammatory Activity of Alstonia scholaris R.Br. Stem Bark Extract
Keywords:
Anti-inflammatory activity, Alstonia scholaris, Dextran
Abstract
Background: The plant Alstonia scholaris R.Br. (Labiatae) is widely cultivated throughout India. The bark of this tree is medicinally used as an astringent, tonic, anthelmintic, antiperiodic and febrifuge. Methods: The effect of Methanolic extract of stem bark of Alstonia scholaris R.Br. was investigated to evaluate the antioxidant activity by TLC method and anti-inflammatory activity by Carrageenan induced rat paw odema, dextran induced rat paw odema and cotton pellet induced granuloma. Result: Anti-inflammatory activity of the tested extract and its fractions was comparable with that of the standard drug Indomethacin (10 mg/kg). Conclusion: The present investigation for the first time, confirms the potential anti-inflammatory activity in the methanol extract of Alstonia scholaris stem bark. Antioxidant property of the extract was confirmed quantitatively by β-carotene–linoleate oxidation method by thin layer chromatography.
Downloads
Download data is not yet available.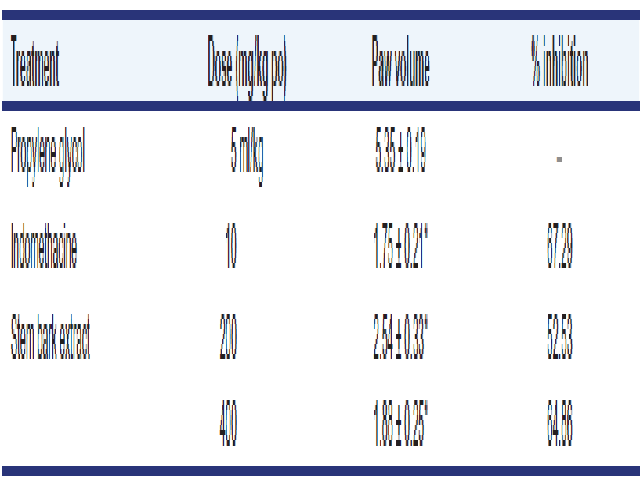 Downloads
CITATION
DOI: 10.5530/ax.2012.2.2.9
How to Cite
Kodangala Subraya, C. ., Harikiran, & Gupta, D. . (2012). Antioxidant and Anti-inflammatory Activity of Alstonia scholaris R.Br. Stem Bark Extract. Free Radicals and Antioxidants, 2(2), 55–57. https://doi.org/10.5530/ax.2012.2.2.9